Watch Dogs On Xbox One Has More Screen-Tearing, Lower-Res Shadows Than PS4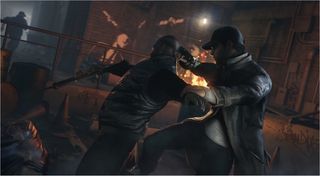 Well folks, the initial performance analysis of Watch Dogs across the new-gen twins and PC have become available for public consumption. What do we get? A lot of what we expected, and a little bit of a surprise... but certainly not the "Banana Surprise" you may have been hoping for.
Digital Foundry rolled out their first of what's bound to be a multi-part series of graphical breakdowns for Ubisoft's recently released Watch Dogs.
The analysis fits in line with a lot of what we had already witnessed in previous videos and comparisons, including the Xbox One lacking the level of ambient occlusion and shadow resolution in comparison to the PS4, as we pointed out in a previous comparison.
What we didn't know was how well the game would maintain its frame-rate and performance on the eighth-gen siblings, and it's only a happy ending for one of them.
The Xbox One suffers from screen-tearing due to issues with performance, even with a dynamic V-Sync set in place to help compensate for frame drops from the supposed hard-lock of 30fps.
During hot and heavy segments, this means that you're going to lose some frames on the Xbox One when playing Watch Dogs, but you're unlikely to encounter that problem on the PS4. You can see how the game performs in the frame-rate test below.
Digital Foundry's early analysis basically points out a lot of what we already expected from the videos and screenshots from the leaked version of Watch Dogs: The game doesn't look terrible on the Xbox One, but the PS4 looks better and runs better.
However, if graphics really aren't that important to you, Leadbetter makes it known...
Unfortunately, the PC version hasn't fared quite as well. In fact, if you're running the game on an AMD card, you're likely to run into some major issues, something that was originally pointed out by Jason Evangelho from Forbes.
The AMD issue with frame-stuttering and slowdown has been a consistent curse to the Glorious PC Master Race, with poor optimization still working as the kryptonite to the PC community, just the same as it did during the seventh generation of gaming.
If you're running an Nvidia GTX, you should be a-okay. The game's 'Ultra' settings comparison to the E3 2013 build reaped some impressive results (if your bar of graphics quality wasn't set to Crysis expectations), but AMD users are still being left out in the cold like Russian insurgents trying to take Donetsk.
Staff Writer at CinemaBlend.
Your Daily Blend of Entertainment News
Thank you for signing up to CinemaBlend. You will receive a verification email shortly.
There was a problem. Please refresh the page and try again.