Why Hideo Kojima Wasn't Allowed To Attend The Game Awards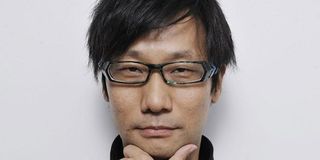 Many icons of the games industry attended The Game Awards 2015, but one legendary director was missing from this year's roster: Hideo Kojima. As it turns out, the man behind Metal Gear Solid V: The Phantom Pain was not available to accept awards for his latest creation because Konami would not allow him to attend.
It's impossible to know the full story since we haven't heard official word from either party directly involved, but The Game Awards host Geoff Keighley didn't exactly pull any punches when he explained why Kojima was not available during the live presentation on Dec. 3.
It's not often someone in this industry is so blunt, which is why Keighley's comments about Kojima and Konami may have caught many by surprise. It might not be apparent taken as a straight quote but, if you saw the show live, you'll know that Keighley's tone was one that basically gave a verbal middle finger to Konami.
He explained that Kojima is still "under an employment contract" with Konami and that their behavior in this matter was "disappointing."
It's possible Konami's actions weren't done out of spite but, at this point, it doesn't seem very likely. Kojima could easily foot his own travel to the U.S. if Konami wasn't willing to fork over the funds to send him, so we've got to assume that the publisher's decision was simply not to have Kojima speak about the game (or anything else for that matter) as a representative of the company. Just like Konami removing Kojima Productions from all promotional materials for the game, it seems like they don't want the man himself to receive direct praise for Metal Gear Solid V, either.
Keifer Sutherland was on hand to accept the award for Best Score/Soundtrack and Best Action/Adventure Game for MGS V on Kojima's behalf.
This is, of course, only the latest event in a long and messy breakup between Kojima and Konami; one in which the publisher has gone out of its way to basically pretend that the legendary director and his team had nothing to do with MGS V. Bizarre is the only word that seems to fit the chain of events that have unfolded over the past year.
Either way, it's almost 2016 and, unless something crazy happens, the parting of ways is nearly complete. Some would say that Kojima has already left Konami, despite Konami's insistence to the contrary. They prevented him from directly receiving some much-deserved personal praise so, at the very least, there's still a contract at play.
Staff Writer for CinemaBlend.