Why More Hollywood Actors Need To Star In Video Games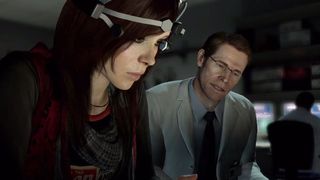 The very first actors I saw in a video game were Willem Dafoe and Ellen Page in Beyond: Two Souls. I was taken aback by the likeness to the actors in real-life and I loved every second of it. As if video games weren't entertaining enough already, now it was blurring the line of entertainment between video game and film. But that's exactly why the gaming industry needs more of this.
The Washington Post wrote a segment on why Hollywood actors are being drawn to video games, and they spoke with Shawn Ashmore, who's most recent gaming credit includes starring in the Xbox One-exclusive hit, Quantum Break. Ashmore said,
So really, aside from totally displacing yourself from what's actually happening (in the 3D game-world), it's not that much different in preparing for a movie role. But maybe Ashmore has an advantage having done high-action movies like The X-Men series.
Quantum Break's creative director, Sam Lake, said in reference to using motion-capture technology on actors,
And I think that in itself makes the game experience that much more realistic. While realism hasn't always been the goal for games back when I was growing up in the late 90's and early 00's, nowadays it seems so many developers strive for that uber-realistic feel, down to the very look of the in-game characters.
Alan Wake, created by the same studio who did Quantum Break, even used a little of the live-action bit in the game. It was a small TV segment that would play on the televisions in-game. And that was back in 2010.
I didn't realize how badly I needed that realistic appearance in a game until I played Beyond: Two Souls. Having the actors there and seeing the small movements in their face made it that much more effective on me. The emotions in-game, the moments of fear and action all had a much stronger impact on my emotions, which left me in tears at the ending of the game. And now we're seeing that kind of technology more often in games like Quantum Break and the upcoming, Detroit: Become Human.
With things like virtual reality finally breaking into the gaming industry, I think it's safe to say we are a society obsessed with turning something seemingly surreal and unbelievable into a very real experience, and I think using this technology to let actors star in video games is all a part of that.
Your Daily Blend of Entertainment News
Thank you for signing up to CinemaBlend. You will receive a verification email shortly.
There was a problem. Please refresh the page and try again.