Wikipad Gaming Tablet Coming This October, Has Nvidia, PlayStation Mobile Support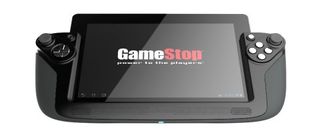 The Wikipad gaming tablet is coming out this fall and will be featured at major retail chains including GameStop. The tablet isn't just a typical tablet, though, and sports a very innovative slip-in/slip-out analog controller set so you can play your mobile games with full dual-analog control support.
With the advent of mobile gaming taking precedence in the market place and advancing in technological prowess at a rapid rate, it only makes sense that the way in which games are played on tablets finally match their wide availability and popularity.
Wikipad's gaming tablet sports a cover port with dual analogs, a digital pad, a start and select set and four major face buttons. There's also left and right bumpers and grip-triggers just beneath the bumpers, so it makes it convenient for playing racing and shooting games.
Fraser Townley, President of Sales for Wikipad commented in the press release, saying...
I'm not big on portable or mobile gaming but the Wikipad looks legit. It also seems to fix the problem that Razer's Fiona had when it came to the analog controls. As some of you may remember, the Fiona's biggest drawback was how the analogs were attached on the side, being rather protuberant and obstructive. The Wikipad seems to circumvent that problem by making the extra physical controls removable from the tablet device, which is a cool option.
Joe Gorman, vice president of GameStop's mobile business unit added nothing of importance to the discussion, saying in the press release that...
Well, on paper and in print the Wikipad looks exceptional. I've got no qualms. In action, well, that's a whole other story and in order to see this bad boy in action it'll run you a very pricey $499.99. Yowzers.
You can scope out the features of the Wikipad below along with a few screenshots, or you can visit the Official Website to learn more. The Wikipad gaming tablet is set for release this October and will have a full suite of games compatible with Nvidia's latest Tegra technology and PlayStation Mobile support.
Key Specs
- 10.1 screen
- 8.6 mm thin
- Weighs less than 560 grams
- 1200 x 800 IPS LCD Screen
- 1.45 GHz NVIDIA Tegra 3 processor
- 1 GB of RAM (DDR2)
- 16 GB of storage with a microSD slot for expansion
Software Partners
- Gaikai
- PlayStation Mobile
- GameStop
- Tegra Zone
- Goolge +
Image 1 of 2
Image 2 of 2
Staff Writer at CinemaBlend.