Win A Wii Or DSi With A How To Train Your Dragon Contest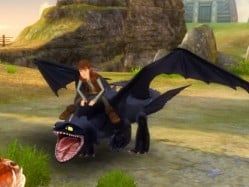 Leading up to April 7th there is a contest that starts March 19th (this Friday) that sees daily prizes being handed out to gamers, including a free copy of How to train your Dragon or Nintendo gaming platforms. More specifically, gamers are eligible to pick between a DSi or a Nintendo Wii if they they're picked as winners.
Now given that gamers have up until April 7th to enter and can re-enter every day, it would probably be in your best interests to head on over to the Official How to train your Dragon Website and enter as often as you can.
The game itself is a third-person adventure game with a premise very similar to the likes of Nintendo's Pokemon. Gamers will capture dragons and train them up, just like in the movie of the same name. There are even multiplayer modes available so players can square off with friends or family in some heated arena dragon combat.
How to train your Dragon will ship for major gaming console on March 23rd. For more info or as a reminder to enter the contest, be sure to visit the Official Website.
Staff Writer at CinemaBlend.
Your Daily Blend of Entertainment News
Thank you for signing up to CinemaBlend. You will receive a verification email shortly.
There was a problem. Please refresh the page and try again.