Wolfenstein 3D Coming To Xbox Live And PSN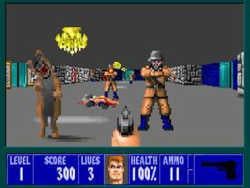 Next-gen consoles are about to be invaded by a horde of pixelated Nazis. The ESRB just rated 1992 first-person shooter Wolfenstein 3D for the PS3 and Xbox 360.
Like fellow id Software retro shooter Doom, it will most likely be released digitally on Xbox Live and PSN. The next-gen Wolfenstein game is coming out this summer and re-releasing the game that started the series seems like a good way to promote the new title while also earning publisher Activision some extra scratch. There's been no official announcement about the game yet so we've got no release date or pricing information yet.
Wolfenstein 3D, like the next-gen Wolfenstein, centers on American soldier B.J. Blazkowicz and his efforts to destroy supernatural weapons being developed by the Nazis. At one point, you get to battle Robo-Hitler and if that doesn't sell you on the game, I don't know what will.
Staff Writer at CinemaBlend.