World Of Booty: Age Of Booty's Sequel?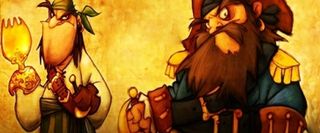 Certain Affinity may be developing a sequel to their real-time strategy game Age of Booty. Earlier this week the Austin-based developer filed a trademark for the title World of Booty.
In Age of Booty, players take on the role of pirate kings. They take control of customized ships and try to take over as many towns as possible while their opponents do the same. Over time they acquire resources that can be used to upgrade their towns or ships. The game supports off-line multiplayer for up to 4 aspiring pirates, and online play for up to 8.
The trademark for World of Booty applies to "computer game software for use with computers and video game consoles" as well as "computer game software for use with mobile telephones." This new game could be on pretty much any platform, then. Age of Booty was released on PS3, Xbox 360 and PC. Certain Affinity announced in early 2012 that they're developing iOS and Android ports for Age as well. All those platforms seem like plausible destinations for World.
The trademark filing doesn't necessarily mean that a game is in development. However, it is possible that Certain Affinity is already working on it. They haven't announced any upcoming projects since completing their most recent work, the Forge mode for Halo 4.
We've reached out to Certain Affinity for comment. We'll let you know if we hear anything.
Your Daily Blend of Entertainment News
Staff Writer at CinemaBlend.