Xbox 360: Forza Motorsport 2, Mugello Circuit Replay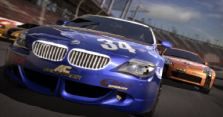 With the late May release planned for Forza Motorsport 2, there's been a torrent of new information and media present of the game that will change the very foundations of simulated racing. Today, Microsoft has unveiled another trailer for Forza 2, this time it's a replay session on one of the new circuits.
I know I'm always saying that Gran Turismo HD has better graphics, but I guess that doesn't mean much if you can't customize your car in the same magnitude, race with the possibility of damage, or battle your friends online, complete with an auction house and virtual credits. But enough about comparisons, we all know that as an overall game Gran Turismo 5 and Forza Motorsport 2 are in two completely different leagues. Casual gamers can drift away in GT5, while real simulation fans will have to master road and wheels in FM2. It's just too bad that GT5 still won't have car damage. Oh well, I guess they want to hand over the title of racing simulation king to Turn 10. Anyway, enjoy the trailer below.
Staff Writer at CinemaBlend.
Your Daily Blend of Entertainment News
Thank you for signing up to CinemaBlend. You will receive a verification email shortly.
There was a problem. Please refresh the page and try again.