Soccer Team Captain Stuck In Thai Cave Rescue Has Died At 17
We have some very somber news to report.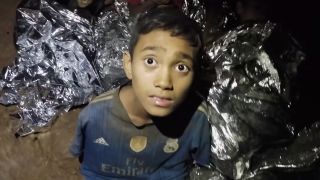 (Image credit: National Geographic)
Who could forget the thrilling true-life survival story of the Thai soccer team stranded in a cave only to be rescued after a grueling 18-day rescue attempt? Unfortunately, we have a sad update involving one of the twelve boys involved in the Tham Luang cave incident of 2018. The team's captain, Duangpetch Promthep, has died at the young age of 17.
CBS News is reporting Duangpetch suffered a head injury while attending school in Britain. According to reports in Thailand, the boy slipped and fell over and sustained a head injury. The teen was rushed to a Britain hospital, where he was admitted and had to be kept on a respirator for two days before tragically dying.
The athlete was attending school on a soccer scholarship he had been awarded to study at Brooke House College in Leicestershire, central England, last year. Authorities said they were called to the boarding school on Sunday over concerns for the welfare of a student they didn't name at the time. The police added that the pupil's death is not considered suspicious.
In June 2018, twelve members of a junior association football team between the ages of 11 to 16, along with their 25-year-old assistant coach, entered the Tham Luang Nang Non cave, where heavy rainfall partially flooded the cave system, trapping them deep within the cavern. While attempts to locate the team were hampered by rising rainwater, authorities eventually found the thirteen. But what followed was a rescue effort that required nearly three weeks to pull off, as well as as many as 10,000 volunteers and 100 divers. The rescue was a massive undertaking that became global news, but ultimately was a story that demonstrated heroism, survival, and the human spirit.
The soccer team's story was an enthralling one of endurance, so it was only a matter of time before it was adapted for the big screen. In 2022, the Ron Howard-directed biographical drama Thirteen Lives hit cinemas (see what we thought about the film). It stars an ensemble cast that includes Colin Farrell, Viggo Mortensen, Tom Bateman, and Joel Edgerton, but their presence isn't a distraction from the genuine drama. While Howard approaches the tale of the trapped soccer team very much like a documentary, nothing can beat seeing the event unfold as it truly happened, which audiences can. The award-winning documentary The Rescue chronicles the nail-biting rescue as it happened and is worth a watch.
The death of Duangpetch Promthep is a heartbreaking turn of events for a young man who had already had to live through such harrowing circumstances. We want to extend our deepest condolences to his friends and family as they navigate this devastating loss of a loved one.
The historical drama Thirteen Lives is available to stream now to anyone with an Amazon Prime Video subscription. If viewers prefer the documentary (or want to compare the differences between the two), they can watch The Rescue with their Disney+ subscription. Please stay tuned to CinemaBlend for all your news regarding the 2023 new movie releases.
Your Daily Blend of Entertainment News
Ryan graduated from Missouri State University with a BA in English/Creative Writing.