10 Thrilling Movies Based On True-Life Survival Stories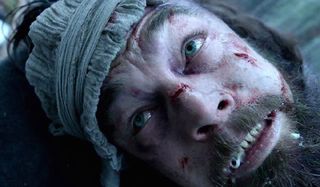 In the last century, Hollywood has pumped out a number of amazing and captivating survival stories, and while many of the fictional ones are incredibly impressive, it's the ones that are based on a true story that carry an extra spark. In the imagination, one can think of a person surviving through just about everything anything, but it means a lot more when you watch someone go through ungodly trials and then find out those events happened to a real individual.
In the past few weeks, audiences have been going in droves to see one such film - Alejandro G. Inarritu's The Revenant - so we figured that we'd take a moment to reflect on some of the great true story-inspired survival stories that have been adapted for the cinematic experience. Did your favorite make the cut? Read on to find out!
The Revenant
Let's start off with the film that inspired this list, shall we? While we don't know all of the exact details of the true story that inspired The Revenant - as it's a tale passed down through campfire tales – we do have a pretty good idea of the basics. Expert woodsman Hugh Glass found himself savagely attacked by a bear while in the service of a party of trappers, and was left for dead in the woods by the man responsible for taking care of him, John Fitzgerald. Despite being very close to death, Glass managed to use his survival skills to get back to civilization to try and get revenge.
Alejandro G. Inarritu's big screen adaptation of Hugh Glass' story does change a few significant details – including Fitzgerald murdering a son Glass didn't have, and a completely fabricated ending – but what The Revenant certainly does capture is the punishing journey the protagonist (played by Leonardo DiCaprio) had to endure.
Alive
Much in the same way that Frank Marshall's Arachnophobia is the ultimate nightmare for people afraid of spiders, Marshall's Alive is the ultimate nightmare for people terrified of stepping foot on a plane. What makes the latter even scarier, of course, is the fact that it's based on a true story, and includes true accounts of cannibalism.
In 1972, a plane carrying a rugby team from Uruguay as well as their friends and family wound up hitting an uncharted mountain peak while flying over the Andes, and crash landed on a mountain slope. Thirteen of the 45 people on the plane died during or shortly after the crash, but some would argue that they got off easy after the events that followed. Ethan Hawke leads the cast of Alive as survivor Nando Parrado, and the film really is just as terrifying as it ought to be.
The Way Back
On planet Earth, there are few terrains rougher to hike than the land in Siberia. The combination of the sheer size of the area as well as the tremendously harsh weather conditions were what led the Soviet Union to send their prisoners there, and there wasn't exactly a tremendous survival rate when it came to escapees. But this is just what makes former Polish prisoner of war S?awomir Rawicz all the more incredible, as portrayed in Peter Weir's 2010 film <>a href= http://www.cinemablend.com/The-Way-Back-4885.html>The Way Back.
Rawicz (played by Jim Sturgess in the film) was a Polish military officer who was captured by the Soviets in World War II, and sent to a Gulag labor camp for being a spy. Driven to escape and get back with his wife, he organizes an escape with a group of other prisoners, and together they walked 4,000 miles to freedom with limited food rations, supplies and water. It's an incredible story that's wonderfully told in The Way Back - which is a film most definitely worth seeking out.
127 Hours
Danny Boyle's 127 Hours and the true story of Aron Ralston has taught us all an extremely valuable lesson: if you're going to go out climbing through canyons in the middle of nowhere, make sure somebody has a general idea of where you are. Otherwise, you may suffer the tremendously terrifying trial that Ralson faced, getting trapped between rocks with no hope of a rescue.
In April 2003, Aron Ralson (played by James Franco in 127 Hours) went out for a casual day of hiking, but despite being a veteran outdoorsmen, skipped a few safety steps. He found himself climbing through a narrow canyon when a rocked slipped and a boulder pinned his arm against the wall. With nobody aware of where he was, there was no chance anyone was going to find him, and for more than five days he subsisted on a little bit of food, rationed water, and urine – eventually using his pocket knife to cut off his own arm for freedom. It's a harrowing and at times nauseating story, and made for a tremendous movie back in 2010.
Rabbit-Proof Fence
Phillip Noyce's Rabbit Proof Fence is about as emotionally shredding as movies get, and it's hard to watch the movie with the knowledge that what's being portrayed actually happened. The entire story exists because of extreme racism and hate on the level that makes your soul feel bruised. But it's also an incredible story of survival amazingly following three young girls, all less than 15 years old.
In 1931, sisters Molly and Daisy and their cousin Gracie were taken thousands away from their home in Jigalong, Western Australia, where they were put in re-education camps and put on a path towards life as laborers and servants. Refusing to give up and wanting to go home, the three girls managed to not only escape the camp, but also travel the continent while being pursued by an expert tracker. Not everyone gets a happy ending, and the epilogue drives home that the story most certainly didn't end just with the survival of the girls. It's a powerful story that was turned into a powerful film.
Apollo 13
Ron Howard's Apollo 13 is a bit different than most of the movies on this list. It's main group of characters doesn't have to go up against harsh weather conditions, and the search for food rations is not something that ever comes up. But those factors don't diminish the film at all as a movie about survival – as it's still very much about a tense and struggle-filled journey home that requires ingenuity and will to survive.
In 1970, a mission to the moon was interrupted when an onboard liquid oxygen tank exploded, knocking the shuttle off course and reducing the power supply. Not only was the crew of the ship (played by Tom Hanks, Kevin Bacon and Bill Paxton) robbed of their chance to land on the moon, but faced the possibility of never returning to Earth. Apollo 13 is arguably the best film of Ron Howard's directing career, and it certainly helps that he had such an impressive true story to work from.
Rescue Dawn
Lt. Dieter Dengler went through a good bit of hell back in 1966, when a plane he was flying over Laos was shot down and he was captured by the Pathet Lao. His refusal to denounce America left him malnourished and tortured as a prisoner of war, and had it not been for a well-timed escape and sheer willpower, he would have never made it out alive with a few of his fellow prisoners.
Werner Herzog first told Lt. Dengler's story in the 1997 documentary Little Dieter Needs To Fly and that film is just as fantastic as the narrative version that he himself adapted in 2006. Rescue Dawn required yet another transformative performance from lead Christian Bale, who really does an incredible job guiding us through a true and terrifying survival story.
The Perfect Storm
One could make the argument that Wolfgang Petersen's The Perfect Storm sits on the border between being a disaster film and a survival film, but it still most certainly qualifies in the latter category. After all, like many of these movies, the central struggle is a fight to return home regardless of what obstacles happen to be in the way. The tragedy in this story is that the obstacles facing the protagonists are three extreme storm fronts that actually prove to be more than they can handle.
Billy Tyne Kr. Bobby Shatford (George Clooney, Mark Wahlberg) and the rest of the Andrea Gail crew were in serious danger of finishing the fishing season of 1991 with a yield much lower than what they required, and despite reports of storms brewing, they cast out anyway. This would prove to be the biggest mistake of their lives, as colliding storms would leave them between a rock and a hard place, unable to navigate home and facing waves as tall as 40 feet. It's a tragic story captured in thrilling fashion in The Perfect Storm, though won't exactly leave you cheering on the power of the human spirit by the end.
Touching The Void
In 1985, hikers Joe Simpson and Simon Yates climbed to the top of the Siula Grande in the Peruvian Andes, but found themselves struck by tragedy when Simpson broke his leg and was then dropped off a cliff suspended from a rope by Yates during a storm. Figuring that his partner was dead, Yates continued his decent down the mountain, but what he didn't know was that Simpson not only survived his fall, but wound up actually crawling into a crevasse and somehow managed to make it down to the base of the mountain.
This absolutely stunning story was turned into a documentary called Touching The Void in 2003, directed by Kevin MacDonald, and presents an absolutely stunning story with the help of both interviews and reenactments. It's most definitely a documentary worth checking out, though it is certainly only a matter of time before a filmmaker adapts the story for a new Hollywood epic.
Into The Wild
Every film/story we've written about here has featured a character or group of characters who find themselves at the mercy of nature and/or fate, but the story of Christopher McCandless – as portrayed in Sean Penn's Into The Wild - is a horse of a different color. McCandless didn't so much find himself trapped and fighting for survival, but instead embraced the opportunity to live for it while driving cross-country and hiking to the Alaskan wilderness.
Based on the book of the same name by Jon Krakauer, Into The Wild finds Christopher McCandless (Emile Hirsch) as a man who feels completely trapped by modern society and feels a desire to leave it all behind – including his immediate family. It's a very different kind of survival story, as he is basically rejecting the same thing that most protagonists are striving for, but it's just as compelling a narrative and comes together as a great movie.
Your Daily Blend of Entertainment News
Assistant Managing Editor
NJ native who calls LA home and lives in a Dreamatorium. A decade-plus CinemaBlend veteran who is endlessly enthusiastic about the career he's dreamt of since seventh grade.