10 Best Movie Machines Of 2008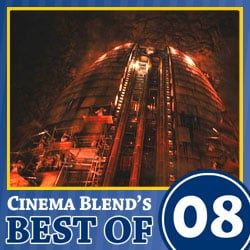 We all know that the technology and machinery that makes movies great isn't always behind the scenes. While it might be a series of computers and controlled stunt toys that make movies look great, the gadgets and gizmos that show up onscreen are the ones that really inspire us. And 2008 gave us more than enough to appreciate. After all, one of the biggest stars of the year was a little trash compactor robot, and the biggest star has gadgets even the Pentagon would envy.
Below is our list of the 10 best robots, gadgets and machines of 2008, from Wall-E to A.R.I.A, the Batpod to time machines. It's been a good year for machinery, maybe even better than it's been for actors. Behold our mechanical masters.
1. Wall-E, Wall-E. This is no contest. While Eve is sleek and beautiful, Wall-E had more character and soul than most human actors onscreen this year.
2. The sex machine, Burn After Reading. "Sit down there, make yourself comfortable, put your feet in the stirrups, and... It's something, isn't it? Hundred bucks, all in - not counting my labor, and the... cost of the dildo."
3. The Batpod, The Dark Knight. It's way, way more than just the Batmobile on two wheels. It's a feat of engineering no one but the new Batman could pull off, not to mention look good riding.
4. Tony Stark's assistant robots, Iron Man. With nothing resembling faces, arms or voices, the robots that helped him build the Iron Man suit stole the show during those early test runs. And stealing any attention from Robert Downey Jr. this year is no easy trick.
5. Jack Black as Robocop, Be Kind Rewind. The sweded movies of Be Kind Rewind were all fantastic, but there was special genius in the way Jack Black recreated Robocop out of some used car parts. His Ghostbuster costume gets an honorable mention.
6. Johann Krauss, Hellboy 2: The Golden Army. Who knows if it's robot technology or straight-up magic that keeps the ectoplasmic Krauss humming inside that old diving bell, but whatever it is, it's awesome. The hilarious Teutonic voice from Family Guy creator Seth MacFarlane is a bonus.
7. A.R.I.A., Eagle Eye. OK, we all should have figured the mysterious woman would be a computer, given that it's a Spielberg idea, but the A.R.I.A. supercomputer at least looked really cool, even if the logic wasn't there at all.
8. The Loom of Fate, Wanted. Does it tell the truth? Is it manipulated by the evil Morgan Freeman? Who cares! For the first time in movie history, weaving is at the heart of a summer blockbuster.
9. Ember, City of Ember. The movie was just a bunch of wasted narrative opportunities, but the mechanical, steam-powered city at its center, entirely underground and lit by spooky amber lights, was marvelous, from the Wes Anderson-esque fonts to the answering machine that was operated by foot pedals.
10. The time machine, Hamlet 2. High-tech wonders weren't really what made Hamlet 2 great-- well, not great, but pretty entertaining, But the time machine that Jesus uses to travel back in time, for reasons we never really understand, would make any high school theater department weep with envy.
For more of Cinema Blend's BEST OF 2008 click HERE.
Your Daily Blend of Entertainment News
Staff Writer at CinemaBlend