The 10 Best Movies Of 2014, According To Sean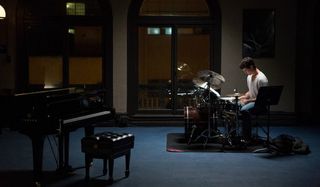 This was an impressive year for film. No matter the genre – from horror to heroes, awards-bait to animation – 2014 offered a buffet of challenging, disturbing, uplifting and rewarding cinematic excursions. This also was a diverse year for cinema. We had iconic storytellers working at the top of their individual games (Wes Anderson, David Fincher and Paul Thomas Anderson come to mind). And we saw relative newcomers like Ava DuVernay, Damien Chazelle and someone named Angelina Jolie announce their presence as directors to which we need to pay close attention. This was the year that the comic-book genre planted its deepest roots, inviting audiences on goofy interstellar adventures and expanding the scope of traditional "super" powers like the X-Men series. And what more can be said about the monumental achievement of Richard Linklater's 12-year odyssey, Boyhood?
This, then, is my list of the 10 best films of 2014. All lists are subjective, and I'm sure we will disagree on certain selections. But these are the films that moved me most, the ones that either hit with the largest impact or stuck with the greatest intensity. They are the films I have revisited, analyzed, enjoyed and shared with fellow film geeks, and they are the ones I hold closest to the soul. Hit me up in the comments section with your reactions, and help me celebrate what ended up being an incredible year at the movies.
10. Chef
Much like Swingers (which he wrote, but didn't direct), Jon Favreau's Chef is a heartfelt, bittersweet and painfully honest story about existing at a certain age. It's written, directed and acted by a man who actually experienced everything that we're witnessing on screen – the good and the horrifically bad. Favreau's blood and sweat is in Chef, and I both admire and appreciate the candor he brings to his life, his career and his uncertain future. Try to watch the scene where Favreau's chef character publically confronts a food critic without imagining the actual director screaming at the movie scribes who took down his Cowboys & Aliens or Iron Man 2. You can't.
But beyond the Hollywood confessional, Chef also is a fantastic "foodie" movie, brimming with some of the best kitchen and food-prep scenes I've seen in years. It's a tender father-son journey movie that cuts through conventional storytelling methods and finds the beating heart that drives creativity and passion. Chef is this year's top crowd-pleaser.
9. The Grand Budapest Hotel
God bless Wes Anderson and all of his OCD tics. Only Anderson could create a film as meticulous as The Grand Budapest Hotel, a story-within-a-story-within-a-story comedy that continues to unpack delightful treasures with each viewing. Naturally, your opinion of Anderson's signature style will dictate how much of Grand Budapest you're willing to… tolerate? Accept? Adore? Endure? The Grand Budapest Hotel could be considered divisive, for if you reject Wes Anderson's sprawling dollhouse stagings, you won't understand what all the fuss is about.
But for those of us who appreciate Anderson's airtight approach to unusual comedy, Grand Budapest is his most intricate, most calculated, most fascinating and most amusing feature. Ralph Fiennes joins the short list of gifted performers who simply plug into Anderson's unique vocal cadences (Bill Murray and Jason Schwartzman are founding members of Team Wes). And one could spend years exploring the cracks and crevices of the director's fantastic production design in and around the Grand Budapest universe… and likely will, with glee.
8. Gone Girl
Not that I'd ever want to pigeonhole David Fincher, but the director should be required by law to deliver a moody, murky crime thriller every three to four years, because there's simply no one better working this genre. Gone Girl pulls off the near-impossible, taking a page-turning story millions already had read and turning it into a breathless study in marital disharmony, a whodunit that is less concerned with guilt or innocence and more focused on how a criminal case is perceived – by the media, by the snooping public, and by the protagonists at the actual scene of the crime.
Gone Girl works like a David Fincher film, drifting in and out of the chilly shadows as the director's expertly placed camera rides a disconcerting Trent Reznor score. But Fincher rarely gets enough credit for the performances he coaxes out of his cast, and everyone in Gone Girl is outstanding. Tyler Perry, Carrie Coon and Kim Dickens steal scenes as witnesses to the macabre soap opera fueling Fincher's feature. Ben Affleck gives his best performance by playing a tweaked version of his recognizable, public persona. And the chillingly brilliant Rosamund Pike creates an on-screen villain on par with Norman Bates or Hannibal Lecter. Gone Girl is one for the ages.
7. The LEGO Movie
The funniest movie of 2014, and that's saying something. In the wrong hands, The LEGO Movie could have become a cheap excuse to peddle toys, a crass advertisement aimed at the wallets of parents who brought their kids to a theater to enjoy something shiny and bright. Co-directors Phil Lord and Chris Miller aren't interested in that, though. Using an intricate blend of CG and photo-real, stop-motion style, the creative duo behind Cloudy With a Chance of Meatballs and the Jump Street comedies have crafted a whip-smart, self-referential, pop-culture tornado that has as much intelligent humor as it does sentimental heart.
On a surface level, fans can get off on seeing Batman, Superman, several Star Wars heroes and a spaceship-loving astronaut joining forces to take down a sinister dictator voiced by Will Ferrell. The LEGO Movie makes this list, though, for the larger questions it dares to ask about its audience. Are you a rule-following builder, or an off-the-cuff creator who throws the instructions away? Should LEGOs be used to replicate what's on the box? Or should you combine all of your pieces into one messy extravaganza and delight with what comes out? And is one way right, while the other is wrong? The third act of the hysterical The LEGO Movie elevates this outstanding comedy, making it an unforgettable feature for the whole family.
6. Force Majeure
What if one decision, made under duress in the heat of difficult conditions, irreversibly changed your life? This is the complicated – and ridiculously compelling – question asked and answered by Ruben Ostlund's fantastically calculated, subdued "comedy" Force Majeure. While vacationing in the French Alps, a close-knit family finds themselves in the path of a minor avalanche. Instead of staying to protect his clan, though, Tomas (Johannes Bah Kuhnke) grabs his gloves and cell phone and flees for safety… showing his true colors and changing, forever, how his wife (Lisa Loven Kongsli) and children view the man they thought they knew.
Force Majeure skillfully turns the screws on a very believable situation, showing how one impulsive act of cowardice can instantly discredit a previously trustworthy husband and father – then hilariously explores how one uncomfortable truth can spread like a plague through innocent bystanders who happen to know our suffering protagonist. Force Majeure changes gears from darkly funny to crushingly sad, and does it with such grace and such ease that you'll admire Ostlund's craft while you are lamenting poor Tomas' impossible situation.
5. Foxcatcher
I love Bennett Miller's style. His intense, focused character studies put unique individuals (mostly men) under a microscope to reveal recognizable truths hidden in relatable flaws. And there's no better director working with actors at the moment. Sure, it's easy to hand a role like Truman Capote to Philip Seymour Hoffman, then sit back and collect the accolades. But look at what Miller did with Brad Pitt and Jonah Hill in Moneyball, then what he does with Channing Tatum, Mark Ruffalo and Steve Carell here in Foxcatcher. It's legitimately brilliant.
Foxcatcher is a dark and disturbing fable about… well, it's about far too many things to cover in this short blurb, touching on the influence of American wealth, the obsession with being the perceived "best" in your chosen field, the need to please a parent (or surpass a sibling), and the lengths individuals will go to just to be recognized. To be noticed. To be heard. You can – and should – see Foxcatcher to appreciate how this spectacular cast burrows into the psyche of some disturbed men. (Tatum, in particular, shows off a darkness I never believed he had.) But peel back each layer, and you'll find a harrowing human drama that continues to reward the deeper you are willing to dig.
4. Inherent Vice
I wasn't sure if I liked Paul Thomas Anderson's Inherent Vice the first time I watched it. All I knew, with a nagging certainty, is that I needed to revisit its world and plug back into its shaggy, rambling universe as soon as humanly possible. So I did, and ended up watching Vice three times over the course of one week. This is unheard of, particularly during the end-of-year crunch, when critics have piles of unseen screeners to work through. It didn't matter. I kept gravitating back to Inherent Vice, and Anderson's mesmerizing, loping, hysterical, trippy and beautiful SoCal noir cast its spell over me time after time.
If you try Inherent Vice and tell me you hate it, I'd completely understand. By adapting a Thomas Pynchon novel, Anderson has crafted a loose narrative around a semi-professional private dick (Joaquin Phoenix, brilliant) whose desperate efforts to protect his lost love (Katherine Waterston) put him in touch with an array of colorful and bizarre characters. But Vice is all about capturing a mood, of plugging in to a hazy moment where the 1960s were resisting the 1970s, and California faced multiple identity crises. I adore the atmosphere created by PTA in Inherent Vice, and I consider this to be his funniest, most clever and engaging film since Boogie Nights. In a perfect world, Phoenix and Anderson would be able to make multiple films based around the misadventures of the loopy Larry "Doc" Sportello, because this is a universe I'd love to revisit time after time after time.
3. Selma
Selma knocked me off my feet. Too many biopics view history from a distance, retelling important stories and spotlighting revolutionary figures through the safety of a invisible, protective glass. Ava DuVernay shatters that barrier to place us in Selma, Alabama during a significant time of racial and political upheaval. She immerses us into the diplomatic fight waged by the late Dr. Martin Luther King Jr., taking us to the front lines of Alabama as well as to the "battlefield" of the Oval Office, where King feverishly negotiated with President Lyndon B. Johnson (Tom Wilkinson). But most important – and here's where Selma triumphs – DuVernay humanizes these historical figures, using a combination of filmmaking technique, editing prowess and pure acting ability (on the part of her searing cast) to make the message of Selma digestible and clear.
Even without the current racial troubles tearing at our nation, DuVernay's Selma would stand out as an important, vital and passionate work of art. Given the time that it's reaching theaters, though, Selma adopts a larger and more relevant mantle. See it now to know where we have been, to recognize what we went through to get to where we are now, and to understand what we must do to pave the way for future generations.
2. Boyhood
Boyhood shouldn't exist. The fact that it does is reason enough to celebrate. An experiment in cinema's possibilities, Boyhood -- as you likely know – chronicles a 12-year span in the life of a typical American family. Not much happens, and yet, everything happens, as director Richard Linklater's camera captures the trials and tribulations (both large and small) that come with growing up. Is it a stunt? Sure, but it's a gamble that actually paid off, documenting – in a sort of cinematic time capsule – what it meant to be a child during a particular time, in a particular place. Linklater's rambling drama is rooted by his two mainstay performers, Ethan Hawke and Patricia Arquette. They give Boyhood a necessary foundation as the director allows the story of young Mason (Ellar Coltrane) to unfold at the pace of an uncertain documentary.
The movie peaks and it fades. It meanders, and it cuts to the quick. It can be melodramatic, and it can be brutally honest. It's probably this high on my list because I still can't believe that Linklater attempted, and completed, this seemingly impossible mission. Because as a snapshot glance of a child's unpredictable life, Boyhood is unprecedented, and unparalleled.
1. Whiplash
No film hit me harder this year than Damien Chazelle's Whiplash, my absolute favorite film from 2014. And it's possible that this film just connected with me on emotional levels that won't move you quite as much. I know that I rewatched the film with my wife, and she couldn't embrace Whiplash because it made her upset, agitated, frustrated, nervous and sad. Well, yeah. This is a movie about sacrificing pretty much everything just to obtain one thing. But Whiplash succeeded in changing the way I think, both about my own approach to my chosen craft (writing, as opposed to drumming – as in the movie), as well as to the thoughts I have when it comes to parenting.
For that, I have to thank the relentless JK Simmons, who casts an enormous shadow over Whiplash by raising his clenched fist… and raising his voice. "There are no two words in the English language more harmful than good job," Simmons' domineering instructor tells Miles Teller's eager-to-please student. And I believe he's right. At the risk of offending, though, I have to tell Chazelle, Teller and Simmons that when it comes to creating a blistering, compelling, furiously stimulating masterpiece, they all did a good job.
Tied for 11: Nightcrawler, Under The Skin, The One I Love, X-Men: Days of Future Past and Dawn of the Planet of the Apes.
Sean O'Connell is a journalist and CinemaBlend's Managing Editor. He's frequently found on Twitter at @Sean_OConnell. ReelBlend cohost. A movie junkie who's Infatuated with comic-book films. Helped get the Snyder Cut released, then wrote a book about it.
Your Daily Blend of Entertainment News
Thank you for signing up to CinemaBlend. You will receive a verification email shortly.
There was a problem. Please refresh the page and try again.