The 10 Funniest Screenplays, According To Hollywood's Top Writers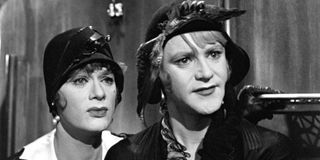 Film buffs who have argued long into the night over the funniest screenplays in the history of cinema no longer need to quarrel. That's because the helpful folks over at The Writers Guild Of America have compiled a list of the 10 funniest screenplays ever written. And, as you'd expect, the usual suspects feature prominently.
The East and West contingents of The Writers Guild Of America were able to put their differences aside to release their official list, which you can have a gander at below:
Do the folks over at The Writers Guild Of America know how to make a list, or do they know how to make a list?
First of all they needed to make sure that classics like Some Like It Hot and Annie Hall were present and near the top. But then they also needed to include a modern film (Groundhog Day), some silly but still classic choices (Airplane!, Animal House, and Young Frankenstein), and, of course, a Stanley Kubrick film.
The East and West Writers Guild Of America didn't just stop at 10 though. Oh no, they carried on all the way up to 101. You can head over to WGA.org to check out the entire list, which includes further entries from Woody Allen, who can be crowned the winner because in total he has seven scripts featured, while Harold Ramis has five, and Mel Brooks and Preston Sturges each have four.
Obviously, a list like this is always going to cause further arguments and debates. I mean, personally, I can't believe that the script for This Is Spinal Tap didn't manage to break the top 10, especially since it was so close at 11. While Duck Soup, The Naked Gun: From The Files Of The Police Squad! and Raising Arizona should all clearly be higher too.
But you can't really argue with the fact that Annie Hall came out on top. I mean, just check out it's opening scene and try not to be charmed:
Admit it, you're about to start watching Annie Hall in its entirety right now, aren't you? Basically the WGA's work proves two things - Woody Allen: terrible husband, great writer.
Your Daily Blend of Entertainment News
Thank you for signing up to CinemaBlend. You will receive a verification email shortly.
There was a problem. Please refresh the page and try again.