10 People Mission: Impossible Should Consider Turning The Franchise Over To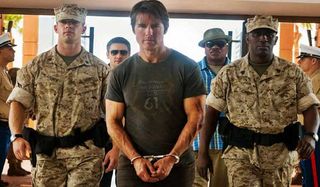 It's been a tradition over the life of the Mission: Impossible franchise to have a new helmer in the cockpit every time a new sequel is about to leave the tarmac. This has led to each film in the series taking on its own artistic direction, while keeping the basic rudiments required to make a Mission: Impossible film. So as Tom Cruise is sparking up talk of Mission: Impossible 6 being in development, he's going to need a new director to help shepherd this new film into being.
But who should be the next creative genius in the director's chair? Who would Mission: Impossible 6 benefit from the most if they were recruited? We'd like to think that the following list of 10 competitors would make an excellent short list for Cruise, Skydance Productions, and Paramount Pictures to consider. It's time to light the fuse, and run down the 10 people we think Mission: Impossible should tap for a very important mission.
10. Christopher McQuarrie
Pro: Christopher McQuarrie obviously already has experience directing a Mission: Impossible movie, and with his plate pretty clear in terms of what his next project will be, it's as good a time as any to ask him back. Considering the quick turnaround Tom Cruise wants Mission: Impossible 6 to have, bringing on McQuarrie would help accelerate the process. The two men are sympatico, as McQuarrie has written several films for Cruise and directed the two of the last three titles in Cruise's filmography. Another McQuarrie/Cruise collaboration could push the quality of the series into the stratosphere.
Con: In order for Mission: Impossible 6 to be ready within the next two years, there's going to be a need for some quick scripting and even quicker pre-production / shooting. If Christopher McQuarrie came back to direct the next film, it can be assumed that he'd want to write it as well. This would be a bit of a tight space to work his way out of, as one duty could interfere with the other on such a tight schedule. Also, part of the charm and longevity to the Mission: Impossible franchise is the fact that each film has a fresh take on Ethan Hunt's adventures, and having McQuarrie come back would ruin that.
Most Qualifying Film: Mission: Impossible – Rogue Nation
9. Rian Johnson
Pro: Rian Johnson's experiences with directing films such as Brick and Looper inform us that Johnson's sensibilities aren't too far off from those needed to make a Mission: Impossible film. The dark noir storytelling of Brick, combined with the action of Looper would make a particularly interesting entry into the official canon. The bonus is that should Johnson decide he ever wanted to make a film like this, much like Christopher McQuarrie, he'd probably want to write it himself.
Con: Despite his involvement in the filming of Star Wars Episode VIII, Rian Johnson isn't really all that interested in tentpole filmmaking. While he's worked with action before, he's always been more of a front and center character sort of filmmaker. Unless the franchise scaled itself back, or presented some sort of irresistible draw, for him to say yes to this probably wouldn't happen. Not to mention, the window of two years is scrubbed with Johnson's Star Wars film hitting theaters on May 26, 2017.
Most Qualifying Film: Looper
8. D.J. Caruso
Pro: D.J. Caruso is one of those directors who stayed under the radar with films like The Saltan Sea and Two For The Money, only to blow up overnight after the one, two punch that was Disturbia and Eagle Eye. The latter film especially showcases why Caruso would be such a good fit for the Mission: Impossible franchise, as it is an exercise in well-timed action set pieces that are able to also sustain a feeling of suspense. Bonus points would be awarded if Caruso got former collaborator Shia LaBoeuf to sign on as a villain.
Con: Caruso has been out of the public eye for quite some time now, with his last major Hollywood release being 2011's box office bomb I Am Number Four. Paramount might be reticent to hire their former collaborator when he hasn't had much theatrical experience in the past couple of years. This is only compounded by the fact that his latest film, The Disappointments Room, is currently in limbo thanks to its distributor's bankruptcy woes. Without a recent track record to stand by, D.J. Caruso might be more of a gamble than Paramount wants to take.
Most Qualifying Film: Eagle Eye
7. Kathryn Bigelow
Pro: When you think of Point Break, you think of high octane action mixed with cat and mouse chases. When you think of Zero Dark Thirty, you think of intense character drama set against the backdrop of a geopolitical manhunt. Combined the two concepts, as well as previous experience with Jeremy Renner, and you have the best scenario for a Mission: Impossible sequel that would be expertly handled by the director of both of those films, Kathryn Bigelow. History would also be made, as this would mark the first female director in the franchise.
Con: Bigelow's days of being a studio gun for fire seem behind her, as she's shepherded several projects into being that have all taken on subjects of reality based drama. Mission: Impossble 6 is probably barely a blip on her radar, as her projects are out of the realm of summer blockbusters. Also, it would probably take a pretty big deal to get Kathryn Bigelow to the table for an Ethan Hunt outing, which could be good for the studio's prestige season game - yet useless for their tentpole roster.
Most Qualifying Film: Zero Dark Thirty
6. Edgar Wright
Pro: Adept to shifting genre at the drop of a hat, Edgar Wright is the type of director that could make a hell of a splash with a huge budget in his hands. Not only would a Mission: Impossible film put Wright in touch with dear friend and colleague Simon Pegg again, but it would also give him the chance to direct Tom Cruise. Given his penchant for attracting both marquee and legendary character actors, a Cruise/Wright project just seems like a great fit. Not to mention, Wright knows how to stage action while embracing offbeat humor.
Con: Wright has been burned by the studio machine before, as former Paramount collaborators Marvel Studios forced his departure from this summer's Ant-Man. With only a year separating him from the fiasco, Edgar Wright might still be gun shy when it comes to working with a big studio. Not to mention, his writing might skew a little more towards the humorous side, which would in turn may require a bit script doctoring after the first draft of Mission: Impossible 6 is handed in. If not handled carefully, this could turn into history repeating itself.
Most Qualifying Film: Hot Fuzz
5. Doug Liman
Pro: If you talk to anyone who's seen Edge Of Tomorrow, you'll hear an almost universal wave of praise. With Tom Cruise and Christopher McQuarrie making up two thirds of last summer's heart winning team, there would be only one member left to draft: director Doug Liman. As he's proven that he can work with Cruise at a professionally impressive level, Liman's varied experiences in the cinematic espionage department nails his candidacy down with experience in laughs and explosions.
Con: Get used to this line of reasoning, because it's going to come back quite a bit in the next couple of candidate's entries. Liman's candidacy as a Mission: Impossible helmer is in jeopardy for one gigantic reason: Edge Of Tomorrow's box office performance. Despite all of the stars aligning, and tons of praise heaped upon its back, the film eked out a long term success that wasn't as propulsive as Warner Bros would have liked.
Most Qualifying Film: Edge Of Tomorrow
4. Ben Stiller
Pro: Ben Stiller and Tom Cruise are basically the acting equivalent of peanut butter and chocolate, as the two have woven in and out of each other's professional lives - finally colliding with 2008's Tropic Thunder. While we're still waiting for that Les Grossman movie everyone was talking about not too long ago, Stiller's directing chops could be broken out as soon as his duties on Zoolander 2 are finished. All he'd need is to brush up on his action directing chops again, and he'd be set!
Con: While Ben Stiller has a healthy relationship with Paramount, particularly as a directing talent, he hasn't given them a hit since 2008. While The Secret Life Of Walter Mitty managed to make twice its budget back, it was a "hit" on the same par as Edge Of Tomorrow. Zoolander 2's success or failure could either make or break any possible deal to make a Stiller helmed Mission: Impossible flick, and if it should fail, the prospect might be as impossible as Ethan's darkest missions.
Most Qualifying Film: Tropic Thunder
3. Joe Carnahan
Pro: Fun fact: Joe Carnahan was once considered for the position to direct Mission: Impossible III. While that never panned out, Carnahan didn't stop working with action, violence, and smatterings of mortality and comedy. With Smokin' Aces, The A-Team, and The Grey, Carnahan has shown he can play with smart assed action, heavy emotional beats, and classic TV adaptations - all in equally impressive fashions. This second chance could be just the ticket to kicking Carnahan into the A-list rankings.
Con: The reason Carnahan's Mission: Impossible III never happened was due to studio politics, and the lack of autonomy with the project. With a high visibility studio film like Mission: Impossible 6 in the balance, there's obviously going to be a certain degree of ball that needs to be played between director and studio. Considering one of his last high profile experiences with a major studio involved his hysterical film Stretch getting dumped onto VOD platforms, we'd venture to guess his eye for action might stay trained on the realm of TV for a little longer.
Most Qualifying Film: Smokin' Aces
2. Antoine Fuqua
Pro: Before any sort of technical evaluation, allow us to throw out a possibility that will almost assuredly sell you on an Antoine Fuqua directed Mission: Impossible 6. Imagine Denzel Washington pitted against, or aiding, Tom Cruise in a mission that would set the stakes so high, it'd be hard to imagine a Mission: Impossible 7 without exploding? Fuqua's action pedigree speaks for itself, especially with The Equalizer keeping him in the game after Olypmus Has Fallen. Those two films alone show that Fuqua can handle character and scope, and he can do it with an economy of story and budget.
Con: Fuqua is a busy man, with The Magnificent Seven and The Equalizer 2 both looming in the distance. His schedule will be a tough one to wrangle without dropping one of those two projects, and we're pretty sure he wouldn't do that as easily as other directors might. Not to mention, while Fuqua can handle gritty action/drama pictures like the ones mentioned above, they aren't exactly known as films with overtly humorous notes. While a grittier Mission: Impossible does sound intriguing, it would make it feel like more of a copycat than its own self
Most Qualifying Film: Olympus Has Fallen
1. Tom Cruise
Pro: Tom Cruise started producing when he made Mission: Impossible, and throughout his time as a producer he's indulged in his twin appetites of doing his own stunts and learning the movie making process. With Mission: Impossible 6 starting to live the moment after he mentioned it, having Cruise raise the baby he created in the artistic either would be a hell of a career move. With his talent behind and in front of the camera, Cruise will have the most control he's ever had over a Mission: Impossible film.
Con: While Tom Cruise directing Mission: Impossible 6 might be an exciting prospect, it's also a nightmarish one. In a worst case scenario, Cruise's inexperience would gum up the works and drag the production through a quagmire of doubt. What's more, without a director to offer checks and balances to the worldwide star's vision, the final product might be a bit more artistically biased to Cruise's character than usual.
Most Qualifying Film: N/A
CinemaBlend's James Bond (expert). Also versed in Large Scale Aggressors, time travel, and Guillermo del Toro. He fights for The User.
Your Daily Blend of Entertainment News
Thank you for signing up to CinemaBlend. You will receive a verification email shortly.
There was a problem. Please refresh the page and try again.