10 Unforgettable Celebrity Cameos From Muppets Most Wanted

Director James Bobin had a lot to accomplish with the follow-up to his successful update of The Muppets, especially as he took on co-screenwriting duties with Nick Stoller after Jason Segel stepped away from the project. On the whole, Muppets Most Wanted is a sequel that feels far too much like a sequel, but still manages to squeeze a lot of fun out of its mostly felt-skinned cast. But it's the human-skinned bunch we're focusing on for this feature, as we cull together 10 of the funniest celebrity roles that Muppets Most Wanted had to offer.
Spoiler Warning! If you haven't seen the film yet, and you probably haven't from the looks of its weak opening weekend, then you may want to avoid clicking through this list, as there are a few surprises that shouldn't be ruined by moi, though there are plenty of others that didn't even make this list. I thought it only fair to avoid adding co-leads Ricky Gervais and Tina Fey to this list, though both are commendable for their genuinely silly performances, but that won't stop me from starting with…
Who He Plays: Burrell kills it as the sharp but self-involved Interpol agent Jean Pierre Napoleon, whose Frenchness is by far his most noticeable character trait. Though the character is almost a lead and technically gets far more screentime than some of the second-tier Muppets, Napoleon's crook-chasing side plot of one-upmanship with Sam the Eagle is one of the film's most inspired choices and doesn't intersect too heavily with the main story beyond the more pivotal moments. With a running joke of how much more employee-friendly the French workforce is, Napoleon is a solid combination of Inspector Clouseau and a flighty New Yorker cartoon, and Burrell turns on just enough pomp and circumventing to make this a memorable character.
How Do We Know Him: Though you'd probably recognize him from several of his early roles, Burrell is most recognizable from ABC's smart and ridiculously popular sitcom Modern Family, in which he plays the unwittingly ever-bumbling father and husband Phil Dunphy. He'll be seen later this year in Craig Johnson's comedic drama The Skeleton Twins, but you can currently hear him in theaters as a genius pup in DreamWorks Animation's Mr. Peabody & Sherman, which made a lot more money in its opening weekend. Just saying.
Danny Trejo and Jemaine Clement
Who They Play: Never to be separated, Clement plays the aptly-named Prison King, the mustached Russian head of the jail gang where Kermit is being held, while Trejo plays none other than Danny Trejo, one of Clement's subordinates. (Ray Liotta plays Big Papa, the King's other underling, but is vastly underused despite one spectacular scene.) Trejo's name reveal is a laugher, as is his singing voice, but it's Clement's accent that truly steals the entire show during his deep-throated performance of the classic track "Working in the Coal Mine," as well as most of his line readings.
How Do We Know Them: If you don't know Danny Trejo from the balls-out crazy Machete films of Robert Rodriquez, maybe you know him from one of the other 275+ projects he's starred in over his 30-year career, including the currently airing FX sitcom Saint George with George Lopez. (He currently has no less than 20 films that have been completed for future release.) A New Zealand music master, Clement broke out in Taika Waititi's indie comedy Eagle vs Shark and the cult HBO musical comedy Flight of the Conchords, which he starred in with the Muppets films' Oscar-winning music supervisor Bret McKenzie. He'll be heard soon in the upcoming sequel Rio 2.
Christoph Waltz
Who He Plays: As if the great Christoph Waltz needs to play anyone else besides himself. As part of the Muppets' first international show in Berlin, Germany, the Austrian-born Waltz is part of one of the prestigious main acts. He performs a wonderful little waltz with Sweetums, the giant hairy ogre that still looks less menacing than the light-footed Waltz. It's an admittedly simple role without much of a payoff, but I'm a fan of jokes that involve plays on words, especially when it involves a name. And he looks like a champ busting such graceful moves.
How Do We Know Him: Waltz is an Oscar-winning actor whose talents are on par with the best in his thespian-filled field. Best known for his stellar work as the vicious Hans Landa in Quentin Tarentino's Inglourious Basterds and the peace-keeping Dr. King Schultz in Django Unchained, he will soon be seen as the lead in Terry Gilliam's surreal sci-fi tale The Zero Theorem, with future roles in Tim Burton's Big Eyes, Sean Anders' Horrible Bosses 2 and Warner Bros' upcoming Tarzan reboot.
Celine Dion
Who She Plays: In true cameo fashion, Dion plays herself and manages to net a duet with one of her biggest fans: Miss Piggy. This is also something of a running gag, as Miss Piggy refers to Dion at one point as her Piggy Fairy Godmother and attempts to sing one of her biggest hits, the Titanic theme "My Heart Will Go On," much to the disgust of audience members with ears. Dion appears at Miss Piggy's side to sing with her and help her through a moment of mental crisis, and it's one of the better examples in the film of a joke being overused, as she repeatedly pops into each frame adorned by magical sparkles. Plus, the black-and-white profile shot of everyone singing was one of Muppets Most Wanted's most striking visuals.
How Do We Know Her: Well, it'd be pretty impossible not to know who Celine Dion is at this point, as she's been flaunting one of music's most impressive voices for around 30 years. (1996's "Because You Loved Me" was one of the biggest earworms of my life, making me happy that the Internet wasn't as big a presence back then.) Her latest album, Loved Me Back to Life, was released last November, and she'll be back for her Las Vegas residence in the summer.
Josh Groban
Who He Plays: This is one of the bigger surprises Muppets Most Wanted springs on audiences, as Groban is revealed to be one of the most dangerous prisoners in Nadya's care, as shown by the high-security cell he's being held captive in. We only get to hear his voice during the prison-based musical numbers, and it isn't until the final performance that the cage is opened and Groban bafflingly emerges from the darkness. But it's only temporary, as his golden pipes aren't enough to give him much outside freedom. He's soon shoved back inside away from public view, but certainly his crimes couldn't have been as unleashing "You Raise Me Up" on the world.
How Do We Know Him: Groban got an early start in the music industry as a teenager, bolstered by his signature vocals and stunning range. He also became the butt of quite a few people's rude jokes over the years for those same talents - see lame gibe above - but his pop culture presence has grown in recent years through enjoyable appearances on series like The Office, It's Always Sunny in Philadelphia and Chelsea Lately. His last album, All That Echoes, was released last February and includes a cover of the Stevie Wonder track "I Believe (When I Fell in Love It Will Be Forever."
Tom Hiddleston
Who He Plays: Hiddleston plays The Great Escapo! While I expected this to be a small part, I couldn't have expected just how small, as Escapo only appears briefly as part of the prison's live entertainment, with an act that involves getting out of a set of neck shackles. Of course, just because he can escape doesn't mean he's earned a way out of the prison, and Nadya doesn't hesitate to incapacitate him with a taser. Though the role was complete weak sauce – I don't even remember him even saying a line – Hiddleston was memorable mainly due to how unrecognizable he was in the role, with his short slicked back 'do and scruffy facial hair. Knowing full well to expect him as Escapo, I stared blankly at Hiddleston for the whole scene until it finally clicked.
How Do We Know Him: The London-born Hiddleston is one of the hottest actors in Hollywood right now, breaking out all over the world as the black-haired villain Loki in Marvel's The Avengers and Thor films. His next role is in Jim Jarmusch's vampire romance Only Lovers Left Alive, and his upcoming roles in Guillermo del Toro's gothic horror Crimson Peak and Ben Wheatley's sci-fi thriller High Rise are high on our list of anticipated performances.
Salma Hayek
Who She Plays: Hayek plays herself as one of the Muppets' guest stars for their Madrid show, partering up with Gonzo for the reveal of his long-gestating staging of an Inside Running of the Bulls. Admittedly Hayek's scene is more enjoyable for its implications than what we actually see on screen, as this crazy stunt had been built up for being too crazy for Kermit's conservative approval. It would have been nice to see an extended cut of this bull run for an action sequence, but it's still a good gag that made me laugh even with the noticable lack of Walter getting gored and drug around the set while screaming in Muppet pain.
How Do We Know Her: Why wouldn't you know who Salma Hayek is at this point? Finding popularity in the U.S. through her early work with Robert Rodriguez in films like Desperado and From Dusk Till Dawn, Hayek has built quite a successful career that still inevitably found its way to both of Adam Sandler's Grown Ups films. She'll be seen later this year in Tom Vaughan's poetic romance How to Make Love Like an Englishman and Joe Lynch's action thriller Everly, and production is currently ongoing for the animated adaptation of Kahlil Gibran's The Prophet, for which she voices Kamila.
Stanley Tucci
Who He Plays: He's hidden mostly in the dark, so it isn't even immediately obvious that it's Tucci in the guy playing Ivan the Guard, a prison guard who runs surveillance from his seat in the watchtower. But then he brandishes his sweetly menacing ear-to-ear smile after shooting off a series of warning shots at Kermit after he gets caught up in the moment and forgets he's an inmate. Even though it's only a bit part, I would love to have spent a little more time with Ivan, as his non-antagonizing gunfire is just sadistic enough to hint at something more dubious lurking beneath the surface.
How Do We Know Him: Tucci has been a Hollywood workhorse for decades now, usually playing roles of both lawful and evil authority, both with a healthy dose of ruthlessness. Though he definitely broke free from that mold as the flamboyant and hysterical Caesar Flickerman, the fashion-centric host of The Hunger Games' titular ceremony and competition. He'll be back for the next two sequels, but you can see him next in Michael Bay's Transformers: Age of Extinction and Alan Rickman's period drama A Little Chaos. He can be heard now in Mr. Peabody & Sherman, for which he provides Leonardo da Vinci with one of the most stereotypically over-the-top Italian accents ever put to film.
Usher
Who He Plays: U-S-H-E-R R-A-Y-M-O-N-D. In a similar but nowhere near as clever joke as Christoph Waltz dancing a waltz, Usher pops in for one scene during one of the Muppets' European stage shows, as none other than a theater usher. Usher playing an usher? It can't miss! And it doesn't, to be fair, as Usher is game enough to draw a laugh out of what could have been the most groan-worthy gag in the movie. Okay, so it probably is the most groan-worthy gag in the whole movie, but he can't be blamed for it.
How Do We Know Him: Usher has been dominating music charts, particularly pop and R&B ones, since the mid-1990s when his debut album Usher was released. (Fun fact, that album was partly produced by Sean "P. Diddy" Combs, who had his own enjoyable cameo alongside Pepe the King Prawn.) Six albums and eight Grammys later, Usher is one of the most widely recognized faces in entertainment, strengthened by his job as a host of NBC's hit singing competition series The Voice, on which he recently debuted his youthful half-fro. He'll soon be seen playing Sugar Ray Leonard alongside Édgar Ramírez and Robert De Niro in Jonathan Jakubowicz's Robert Durán biopic Hands of Stone.
Death
Who He Plays: Death, duh. For a brief but hilarious joke, Death appears while playing chess with Swedish Chef in a clever homage to Swedish filmmaker Ingmar Bergman's 1957 classic The Seventh Seal. If you ever wanted to see gibberish at its most existential, here it is, and it's ready to be sold as a wall-length poster.
How Do We Know Him: Hopefully, we'll never have to.
Your Daily Blend of Entertainment News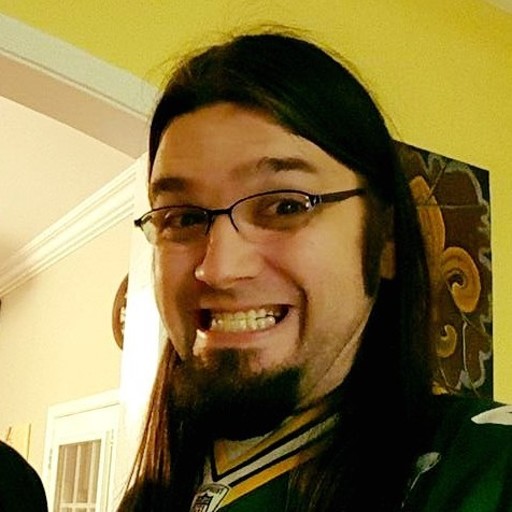 Assistant Managing Editor
Nick is a Cajun Country native, and is often asked why he doesn't sound like that's the case. His love for his wife and daughters is almost equaled by his love of gasp-for-breath laughter and gasp-for-breath horror. A lifetime spent in the vicinity of a television screen led to his current dream job, as well as his knowledge of too many TV themes and ad jingles.