Weekend Box Office: Divergent Number One, Muppets Not So Wanted After All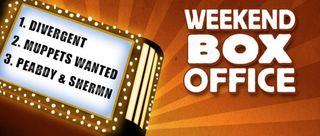 Teen-targeted dramas like Hunger Games and Twilight have been cash cows for studios Lionsgate and Summit, but the two studios felt compelled to share the risk when it came to the lastest young adult novel adaptation Divergent. Even though Divergent the first in a series, banked an impressive number one this weekend with $56 million, it fell short of the other mega-franchise movies which have tended to open at $70 million or higher.
The breath of fresh air that the Muppets franchise enjoyed with their return to the big screen in 2011 seems to have gone stale. Muppets Most Wanted debuted at number two with just $16 million, far less than the $29 million opening of The Muppets three years ago.
Faith-based drama God's Not Dead opened in fewer than 800 venues, but still managed to bank over $8 million to land in fifth place.
After almost four months in the top ten, last week's release of Frozen on home video finally tugged the movie down under the $1 million weekend total. While it may not edge its way to the $400 million domestic sales mark, it has locked in its place in history as the highest ever grossing Disney animated movie, and second only to Toy Story 3 in the list of highest grossing animated movies ever.
For the full weekend top ten, check out the chart below:
1.
Divergent *

$56,000,000Total: $56,000,000LW: N
THTRS: 3,936
2.
Muppets Most Wanted *

$16,514,000Total: $16,514,000LW: N
THTRS: 3,194
3.
Mr. Peabody & Sherman

$11,700,000Total: $81,002,000LW: 1
THTRS: 3,607
4.
300: Rise of An Empire

$8,665,000Total: $93,753,000LW: 2
THTRS: 3,085
5.
God's Not Dead *

$8,564,000Total: $8,564,000LW: N
THTRS: 780
6.
Need for Speed

$7,781,000Total: $30,404,000LW: 3
THTRS: 3,115
7.
The Grand Budapest Hotel

$6,750,000Total: $12,961,000LW: 8
THTRS: 304
8.
Non-Stop

$6,346,000Total: $78,621,000LW: 4
THTRS: 2,945
9.
The LEGO Movie

$4,115,000Total: $243,352,000LW: 6
THTRS: 2,501
10.
Tyler Perry's The Single Moms Club

$3,100,000Total: $12,910,000LW: 5
THTRS: 1,896
Your Daily Blend of Entertainment News
Thank you for signing up to CinemaBlend. You will receive a verification email shortly.
There was a problem. Please refresh the page and try again.