12 Days of Christmas: Santa Claus: The Movie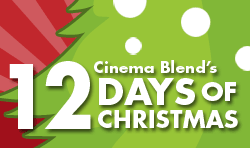 It's time to celebrate the Christmas/ Chanukah/ Kwanza/ Festivus Holiday season, so here at Cinema Blend we're enjoying Twelve Days of Christmas. Yes, we know traditionally the "12 days" start with Christmas, but we plan on being celebrated out by that time, so we're pushing the twelve days leading up to the holiday.
Here at Cinema Blend, we're celebrating by revisiting some of our favorite holiday movies. These aren't the 12 best movies out there by any means, just twelve of our favorites. Some of them you might enjoy like we do. Others you might want to check out for the first time.
On the third day of Christmas, my true love gave to me…
The story of Santa Claus
Had the creators of Santa Claus: the Movie selected one direction to take the movie, it possibly could have been a more memorable film. Instead the movie, which actually tells two different stories, tends to be easily overlooked. It's still a lot of fun, from John Lithgow's over the top villany to Dudley Moore proving he can play more than just an alcoholic. Notice the one thing I didn't list there, however, is Santa Claus himself.
The movie starts off as an origin picture, revealing where Santa Claus came from and how the big jolly man came to be. From there the title character tends to become more of a supporting player in his own movie as the story becomes more about a rejected elf (played by Moore) who inadvertently gives some of the elf magic to a toy magnate who wants to get rid of Santa Claus and take over Christmas.
Some people criticize the story for being too similar to Superman's, which shared some of the same producers and writers. It's still an enjoyable holiday movie, but not one you're likely to visit outside of the Christmas season.
That classic holiday moment… Superman discovers the Fortress of Solitude… er, I mean Santa Claus finds his North Pole haven. Okay, maybe the similarities are a little strong at times.
Read all of Cinema Blend's 12 Days of Christmas features in other sections by clicking here.
Your Daily Blend of Entertainment News