16 Zombie Extras Injured On The Resident Evil: Retribution Set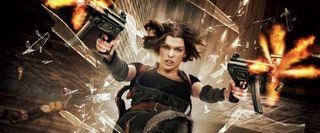 It's never funny when people are injured on a movie set, doing their jobs in the name of making some entertainment for the masses, but it's hard to resist when the people injured are 16 extras dressed up in full zombie makeup. I mean, the possibilities for confusion are endless-- is that an actual broken bone or a prop one sticking out of your leg? How do you tell the difference between fake and real blood?
Luckily none of the injuries sustained by the extras on the Toronto set of Resident Evil: Retribution were life-threatening, according to TMZ, so it's not quite as tasteless to make the zombie jokes. But still, these were real people, not the undead, and they really did get hurt, including some broken bones, back injuries and general arm and leg pain. The accident occurred when the actors were placed on a set with wheels that suddenly moved, sending them falling a terrifying 20 feet to the ground. It's unclear which scene was being shot, but given that all of the Resident Evil movies involve packs of zombies in one form or another, you can pretty much guess "any of them."
The Toronto Police Department and the MInistry of Labor are investigating the accident, presumably to figure out if any of the crew members were doing their jobs correctly, but there's no word on whether or not this will slow down production on the film, which is set for release on September 14 next year. The film stars Milla Jovovich, as always in the lead role of Alice, along with Michelle Rodrgiuez, Sienna Guillory, Colin Salmon, Shawn Roberts, Boris Kodjoe, Oded Fehr, Johann Urb and Kevin Durand. Paul W.S. Anderson is also back as a writer and director.
Staff Writer at CinemaBlend
Your Daily Blend of Entertainment News
Thank you for signing up to CinemaBlend. You will receive a verification email shortly.
There was a problem. Please refresh the page and try again.