The 20 Best Movies Of 2014, According To Metacritic Users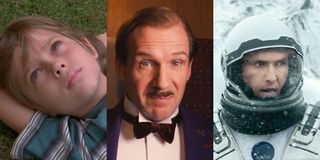 If you ask me, no one really likes putting together a "best movies" list. It's no easy task, and your order is forever changing depending on your mood and environment. So it's times like this when I enjoy turning the reigns over to outside sources. The community over at Metacritic has put together its annual best-of rankings, including the 20 best movies of 2014.
For the past five years, Metacritic users have participated in surveys to name the best movies, TV shows, games, albums and songs. Before we get into their picks for the best movies (i.e. the good stuff), here's a nitty gritty detail to keep in mind. The users were asked to rank their five favorite movies: five points for first-place picks, four points for second place, etc. In a wonderful turn of events, the film that most deserved to get the title of best movie of 2014 did. Here's the full list of films, along with the number of points they racked up.
1. Boyhood (2,827)
2. Interstellar (1,754)
3. The Grand Budapest Hotel (1,742)
4. Birdman (1,478)
5. Gone Girl (1,453)
6. Guardians of the Galaxy (1,401)
7. Whiplash (801)
8. Nightcrawler (793)
9. The LEGO Movie (776)
10. Under the Skin (563)
11. Dawn of the Planet of the Apes (470)
12. Snowpiercer (465)
13. Captain America: The Winter Soldier (379)
14. X-Men: Days of Future Past (375)
15. Edge of Tomorrow (305)
16. Inherent Vice (219)
17. Ida (191)
18. Foxcatcher (173)
19. The Babadook (166)
20. The Hunger Games: Mockingjay - Part 1 (165)
I've said this time and again, but there's truly nothing like Boyhood, and that's all I'll say on the matter. However, what was surprising is the second-place holder. Interstellar had its fair share of issues, and it didn't seem like all that many people were into it. Apparently none of us should ever doubt Christopher Nolan's reach.
Another well-deserved victory was how close Whiplash was ranked to the top. While Miles Teller was showing us a more vulnerable side that we've never seen from him before, J.K. Simmons was setting the screen on fire with his performance as the sadistic and abusive jazz conductor. Simmons earned a Golden Globe nomination for it, and the film deserves some attention at the Oscars, too. The fear, however, was that it didn't resonate with audiences. Though, it's good to know it has its fans.
As expected, the superhero movie genre turned out in full force. With the exception of The Amazing Spider-Man 2 (for obvious reasons), all the Marvel films were included. Guardians of the Galaxy didn't break into the top five, but it was close enough. Captain America 2, on the other hand, only bested Days of Future Past by one slot. Perhaps the biggest travesty, though, was how far down Edge of Tomorrow dropped. By all accounts, this movie looked like another Tom Cruise disaster movie (and we're not talking about the natural disaster genre, either) but it proved itself to be one of the funnest times we've had in a theater this year. This brings me back to my earlier statement about the difficult determination process behind best-of lists. At least one person will always be let down.
Elsewhere, Metacritic users also named Interstellar, Boyhood, Guardians of the Galaxy, Mockingjay - Part 1 and Birdman as the five most overrated movies of 2014 (in that order). In the TV division, Game of Thrones and True Detective swept the two top spots. At least we know the pollers have good taste.
Your Daily Blend of Entertainment News
Thank you for signing up to CinemaBlend. You will receive a verification email shortly.
There was a problem. Please refresh the page and try again.