300: Rise Of An Empire Actually Did Pretty Well During Midnight Screenings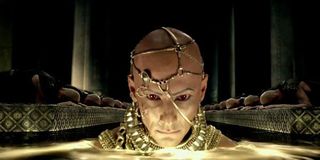 300: Rise of an Empire stormed theaters late last night to unfurl another gory tale or war, revenge and shirtless men with capes. And with strong box office returns, it appears that the seven years between this sequel and the theatrical release of 300 hasn't cooled fan fervor for the Zack Snyder's vision of this Greek/Persian conflict.
THR reports 300: Rise of an Empire pulled in an impressive $3.3 million at Thursday night screenings in North America, plus another $1.83 million in France since its Wednesday debut there. These figures are leading to speculation that this bloody and brawny epic could make $40 million in the US over the course of its opening weekend. Notably, that would be roughly $30 million less than 300 made its opening weekend, but Warner Bros. is said to have expected some drop off in initial moviegoer turnout for a number of reasons.
One concern is how the number of male moviegoers have plummeted in the intervening years, lessening the franchise's most vocal demographic. And as many have sneered online, 300: Rise of an Empire seems a slightly senseless sequel. How do you make a part two for a film where all of the heroes die? Well, the movie's marketing has been working hard to explain that, detailing how this adventure focuses on another front in the battle between Xerxes and the Greeks. Still the necessary loss of Gerard Butler and Snyder as the film's director, have further dampened profit expectations.
Noam Murro helms this version, and as I detailed in my review, he stays pretty closely within the style guide Snyder set up in the first film. Snyder did produce the film. Plus he wrote the adapted screenplay from Frank Miller's comic alongside Kurt Johnstad. But when Warner Bros dragged their feet on greenlighting the project, Snyder signed on to Man of Steel, and ultimately this naval-based battle movie had to set sail without him at the helm.
300 was a rousing success in 2007. With a budget of just $65 million, it went on to pull in $210 million domestically, and $456 mil worldwide. 300: Rise of an Empire may not be able to compete with its such a strong opening blow. But with the addition of 3D, it has a bonus source of income. And it's not entirely dependent on US audiences as it has already opened in a long list of foreign nations, including Australia, Germany, Greece, Hong Kong, South Korea, Peru, and Norway. Then, it'll be opening in Japan this June.
While it may not be able to surpass the box office honors of its predecessor, 300: Rise of an Empire is already being eyed as the most successful sword and sandals movie this year. Previously, we've seen the eye-scorching misfires that were Paul W.S. Anderson's Pompeii and Renny Harlin's The Legend of Hercules. With a fat budget of $100 million, Pompeii came in third opening weekend with a painful $10 mil. It has since made just $66 mil worldwide. The Legend of Hercules also came in number three when it opened. But the $70 million movie made just $8.8 mil for that title, and has earned just $39 million worldwide.
For better or worse (mostly worse), this is the year of sword and sandals pics. It doesn't seem like a trend that will catch on. But perhaps that will all change when Dwayne Johnson's Hercules hits this summer.
Staff writer at CinemaBlend.
Your Daily Blend of Entertainment News
Thank you for signing up to CinemaBlend. You will receive a verification email shortly.
There was a problem. Please refresh the page and try again.