To 3D Or Not To 3D: Buy The Right Hansel And Gretel: Witch Hunters Ticket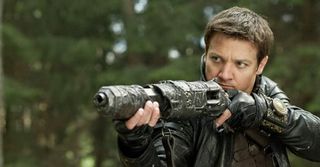 Seeing a movie in 3D IMAX is a little bit like having your cake and eating it, too. Studios continue to experiment with both formats to see which fit the modern audience's needs best. And while some movies choose one over the other, the rare beast blasts a 3D image across the larger-than-usual IMAX screen.
After a lengthy delay (the movie first was expected in theaters in March 2012), Tommy Wirkola's Hansel and Gretel 3D played IMAX screens starting this past weekend. (It actually won the box office with an estimated $19 million.) Word of mouth might have you wondering if the horror/fairy-tale hybrid is worth the price of the extra 3D ticket. Fair question. Here's what we discovered.
Does 3D Fit?
?What's the point of updating a classic fairy tale like Hansel and Gretel if you're not going to find a fresh angle? For Witch Hunters, Wirkola and his crew go dark and angry, tapping into the vengeful hate Hansel (Jeremy Renner) and Gretel (Gemma Arterton) feel after surviving their near-fatal encounter with a witch to create an explosive horror thriller. The scope of H&G isn't massive – the movie contains the action to a small, rural community and a tract of haunted forest where a powerful being (Famke Janssen) is preparing for a blood moon. But Hansel and Gretel's "high-tech" weaponry puts the 3D to good use by bringing the gory kills off the screen, much to the audience's delight.
Planning & Effort?
?Knowing that the hook of H&G is his ability to exploit 3D to soup up his horror thrills, Wirkola does a decent job during his action sequences of firing bullets, arrows, blades and flaming objects directly at his audience. When our protagonists are going toe-to-toe with various supernatural forces, the planning behind the 3D in this movie is evident. A glaring problem of the movie is that there aren't enough action sequences, though, and the movie's dragged down into the mud and filth of its dreary visual palette when creatures aren't being eviscerated. So while the action scenes are well planned, the movie needed more of them to take full advantage of the 3D technology.
Before the Window?
?This category refers to the objects that seem to come off the screen and reach the audience, and that's the 3D H&G specializes in. Our warriors point weaponry at targets, prompting crossbows and arrows to stick out at audience members. A massive troll treats an enemy like a baseball, knocking him into our laps. Bullets and blades are thrown our way. The "before the window" 3D in H&G is actually pretty good … better than I expected it to be.
Beyond the Window
?This is the depth-of-focus question that allows us to grade how the 3D enhances the image inside of the scene, and not off of the screen. Here, H&G doesn't look any different from a standard 2D movie. Admittedly, animation usually looks best beyond the window, unless we're referring to rare features like Ang Lee's Life of Pi or – of course – James Cameron's Avatar. Hansel and Gretel does not live up to those expectations, concentrating mostly on jolting its audience with things that occasionally jump off the screen at us.
Brightness
?Oh, this is going to hurt, H&G. Wirkola's movie is dreary and ugly, from a visual standpoint. The leads are cloaked in black leather, which blends with the dark woods in which they fight. The villages are muddy and messy. The witches' lairs are dank and dark. None of this helps the 3D, of course. The tone of the movie is supposed to be dark, but 3D works best when the screen is saturated in light. Do the math.
The Glasses Off Test
?Ironically, one ear piece on my 3D glasses broke halfway through H&G, so I was forced to watch a good chunk of the film's second half with the glasses off for long chunks. The good news for me is that very little looked different. The screen rarely went blurry … which means the amount of 3D happening on screen was minimal. That's bad news for the audience who is ponying up more cash for a 3D ticket. Yes, during the action sequences, the screen blurred as Wirkola enhanced his visuals. But for lengthy sections of H&G, the screen looked normal with the glasses off.
Audience Health?
Wirkola's attempt at 3D isn't immersive. He's not plunging his camera into and out of various action scenes, the way Lee does for Life of Pi or Steven Spielberg mdid in his animated The Adventures of Tintin. His approach to 3D takes a step back from the action, allowing items to fly out toward us. But the camera stays pretty stationary, and we're not roller-coasting around in dizzying intervals in an attempt to replicate a battle without leaving out theater seats. Very few of the 3D battles in H&G will have you leaning over your popcorn bag and losing your lunch, so the movie earns a pretty decent Health score.
SCORES RECAP

3D Fit
4
P&E
3
Before The Window
3
Beyond The Window
2
Brightness
1
The Glasses Off Test
2
Audience Health
3
Total Score
30 (out of a possible 35)
Final Verdict: Hansel and Gretel wasn't hastily retrofitted to 3D by Paramount in an attempt to grab more cash. The story always carried the promise of 3D, but Wirkola seems to be a student of old horror 3D, where the camera stays stationary and objects fly at us. I think, by now, audiences have graduated past that point, so the 3D in H&G might be viewed as a bit of a disappointment. Couple that with the ugly, dark visuals, and this isn't best 3D experience you are going to have at the movies. You'll probably get just as much out of Wirkola's movie if you buy the 2D movie ticket and watch Hansel and Gretel dispose of witches in standard, conventional two-dimensions.
This poll is no longer available.
Sean O'Connell is a journalist and CinemaBlend's Managing Editor. He's frequently found on Twitter at @Sean_OConnell. ReelBlend cohost. A movie junkie who's Infatuated with comic-book films. Helped get the Snyder Cut released, then wrote a book about it.
Your Daily Blend of Entertainment News
Thank you for signing up to CinemaBlend. You will receive a verification email shortly.
There was a problem. Please refresh the page and try again.