6 Scott Pilgrim Clips Chart His Relationship With Ramona Flowers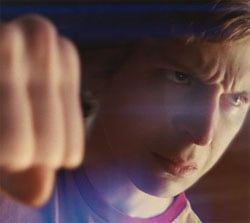 Scott Pilgrim vs. The World screened last night at the San Diego Comic Con, and it's getting the kind of rave reviews normally reserved only for Christopher Nolan movies. Could it really be that good? Our own Katey Rich thinks so and thanks to the six amazing clips I'm about to show you, I'm more inclined to believe her than ever.
In the six clips below you'll see the development of Scott Pilgrim's relationship with the luscious Ramona Flowers. They meet, they date, he has to fight her evil exes, and somehow Jason Schwartzman lures Ramona into his lair where he creepily strokes her hair. What you'll see here isn't just funny, it's smart. Some of the dialogue in particular struck me as clever, which isn't something I've always associated with Edgar Wright's past movies. This really seems like a step forward for him. Watch:
Look for Scott Pilgrim vs. The World in theaters August 13th. For more info visit our Pilgrim preview page.
Your Daily Blend of Entertainment News