7 Science Fiction Women Who Are So Much More Than Eye Candy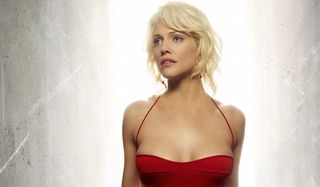 Cute. Sexy. Beautiful. A little in between. Eye candy comes in all flavors; even when they're not exactly human.
Movies and television have delivered some of the hottest women in sci-fi and fantasy, often giving them more than just beauty. They're usually incredibly gifted at combat and highly intelligent. They may not always be role models, but they're strong women who are driven. Empires rise and fall due to their influence.
With science fiction movies and TV series, we expect a certain amount of pandering or sexual suggestiveness aimed towards the audience. However, in science fiction, the beauty can be a mask for something more, unexpected, or sinister. That's what makes it a delicious affair.
These seven lovely ladies represent some of the genre's best examples.
Buffy Summers
Plucky, dependable, always ready for the quip, Buffy Summers (Sarah Michelle Gellar) was the girl next door with super powers. She'd drive a stake in your heart. You know the drill. For seven seasons, Buffy Summers captivated us in a myriad of ways. We watched her grow from untested vampire slayer to a true leader. Buffy the Vampire Slayer was the perfect vehicle for Gellar to stretch her acting range and deliver some impressive fighting skills.
Number Six
Since the first moments of the Battlestar Galactica miniseries, we've been fascinated by the Cylon known as Number Six (Tricia Helfer). A keen intelligence, statuesque, and hard to take your eyes off, Number Six epitomized everything that was so cool about the reimagined Battlestar Galactica: cool, effortless, menancing at times, Number Six wasn't just a pair of stiletto heels. She was everything we found attractive -- and dangerous -- about the Cylons.
Ripley
Sigourney Weaver, one of the most glamorous women in Hollywood, took a different approach when she played Ripley in Alien, and the follow-up, Aliens. Besides adding an "S," Aliens became a favorite among critics and fans thanks to Weaver's tough, no-nonsense portrayal of Ripley. Time and again, when people talk about the movie franchise they go back to one name alone -- Ripley. She wasn't just tough, she was courageous, and quite beautiful. The perfect package.
Felicity Smoak
In the CW series, Arrow, Oliver Queen couldn't help save his beloved Star City without her. Felicity Smoak (Emily Bett Rickards) is a computer hacker with a quick wit and the ability to go from nerdy to sexy in less than a minute. We learn that Felicity isn't simply a cute geek (or as Iris West said in a recent Flash episode, she's an "adorable geek"), she was once a goth girl in college with a hacker network of friends. It's a darker past than expected, but that's perfectly in line with what to expect. In sci-fi/fantasy shows, the female supporting characters are usually given room to grow.
Uhura
When J.J. Abrams rebooted the Star Trek franchise, he took a risk giving Spock a love interest. But even a half Vulcan couldn't resist the beautiful Zoe Saldana as Uhura. But thankfully, she's not merely a girlfriend. She's the Enterprise's communications officer who can speak a ton of languages, and can handle herself in battle as well. Saldana's Uhura is a woman with confidence, intelligence, and just the right amount of sarcasm to make you smile.
Sil
The movie Species, told the story of Sil (Natasha Henstridge), a young girl whose DNA is spliced with an alien's. She grows up (an accelerated growth from a type of cocoon), and is hell bent at finding a suitable mate. While Sil does use her sexuality to get what she wants (the whole purpose of the film). She's clearly more than a pretty face. Endowed with some pretty incredible alien powers. And for a few minutes we all wanted to be Alfred Molina's character. Until we didn't.
Samantha
Okay, yeah. We're a little off the beaten path. Let me explain. The power of suggestion – even in cinema – can work wonders. In the movie Her, a man falls in love with a computer program. A sentient computer program. Voiced by the always-great Scarlett Johansson, her performance as Samantha was pitch perfect. The sultry voice. The playfulness. Admit it. You fell a little in love with her too. That's one of the movie's strengths. You imagined her in your head. The absurd (falling in love with a computer program) became eerily plausible.
Your Daily Blend of Entertainment News
Your Daily Blend of Entertainment News
Thank you for signing up to CinemaBlend. You will receive a verification email shortly.
There was a problem. Please refresh the page and try again.