Adam Sandler Doing A Gay, Polyamorous Three Men And A Baby Remake?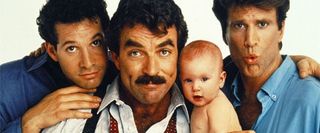 Adam Sandler may often be thought of as the king of movies for idiots, but every now and then he does something kind of edgy in his own uniquely Sandler way. This could turn in to one of those times since, word is he may be making a movie about gay polyamory.
This exploration of multiple-partner lifestyles would come in the form of a Three Men and a Baby remake, according to a rumor posted by Movieweb. The original 1987 film was directed, rather well, by none other than Star Trek's Leonard Nimoy. It starred Ted Danson, Tom Selleck, and Steve Guttenberg at the height of their powers, as three decidedly straight male roommates forced to take care of and eventually raise a baby. All Guttenberg-based kidding aside, it's a pretty great movie, and one that made enough money to spawn a sequel in 3 Men and a Little Lady. In fact there's long been talk of making a third entry in the series, 3 Men and a Bride, but in Hollywood's climate of redo why bother continuing the story when you can simply repeat it.
Except, well, Adam Sandler's notion of repeating it comes with that strange Chuck & Larry style twist. This time the three men would be gay lovers played by David Spade, Chris Rock, and Rob Schneider. If the rumors are to be believed, Sandler wouldn't actually star in the movie, more likely just a cameo, but he'd produce it through his Happy Madison production company.
The press is sure to start making cracks at Sandler's expense as a response to pretty much anything he does, let alone a gay polyamorous remake of a Steve Guttenberg movie, but here's what I know about polyamory: America isn't ready to accept it. Think people have a hard time accepting gay marriage? Polyamory is even further away from any sort of legitimate acceptance. Gay polyamory? Might as well make them atheists too, while you're at it Adam. Except, well, Sandler has a way of making this stuff completely palatable to even the most uptight asshole. Maybe I Now Pronounce You Chuck & Larry wasn't exactly a paragon of gay pride, but people who'd never have been caught dead seeing something like Brokeback Mountain showed up to see it in droves and sympathized with lifestyles different from their own, for an hour or so. Baby steps. Maybe Sandler can do the same thing for polyamory, or better yet for the notion of getting people to shut up and let others do whatever they want, as long as it isn't hurting anyone else.
For now this is all wild rumor. Movieweb's claim that the idea for the film was spawned from an episode of MTV's Real Life makes the whole thing even harder to believe. It is kind of easy, though, to imagine David Spade, Chris Rock, and Rob Schneider all hanging around with Sandler hammering out some sort of bizarre script, as they claim may be happening at any moment.
Your Daily Blend of Entertainment News
Thank you for signing up to CinemaBlend. You will receive a verification email shortly.
There was a problem. Please refresh the page and try again.