Alan Rickman, Matthew McConaughey And More Up For Lee Daniels' Butler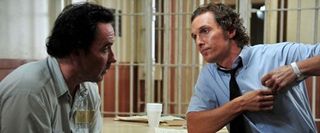 Since garnering widespread notice and acclaim with his Oscar-winning tearjerker Precious, writer-director Lee Daniels has set his sights on even more ambitious endeavors. His upcoming feature, The Paperboy, will make its world premiere later this month at the Cannes Film Festival, where IM Global will be shopping his next sure-to-be star-studded film, The Butler. Based on a Washington Post article that revealed the storied career of African-American White House butler Eugene Allen, the biopic will chart the evolution of politics and race relations through the terms of eight presidents beginning in 1952 with Harry S. Truman.
Forest Whitaker will headline the historical drama, playing the title role. Also on board are Paperboy star John Cusack, Jane Fonda, and Oprah Winfrey. But Daniels is looking to stuff his revolving door White House with stars, and THR reveals Cusack's Paperboy co-star Matthew McConaughey, Cuba Gooding Jr., Terrence Howard and Alan Rickman are said to be up for The Butler. At this time there's no word on what roles these new potential additions to the cast may play.
However, with a plot that will tackle three decades of American history—including the civil rights movement, the Vietnam War and the assassinations of Dr. Martin Luther King Jr., President John F. Kennedy and Senator Robert Kennedy—it's likely many of the parts these stars take on will essentially be cameos. Nonetheless, we do know Cusack is set for Richard Nixon; Fonda will portray Nancy Reagan, and Winfrey will play Allen's wife of 65 years, who tragically died the day before Barack Obama was elected President of the United States of America in 2008.
Whatever you may think of Daniels' style, you have to admire his ambition here. With the expansive time frame, complicated historical events, and sure to be hectic shooting schedule, there is plenty in The Butler's tale that could get lost in translation. Of course, the strong cast that Daniels is shooting for could help smooth out many rough edges that may occur from sprinting through so much history in just 2 hours or so.
Staff writer at CinemaBlend.
Your Daily Blend of Entertainment News
Thank you for signing up to CinemaBlend. You will receive a verification email shortly.
There was a problem. Please refresh the page and try again.