Alicia Silverstone Preparing To Strip And Sculpt Butter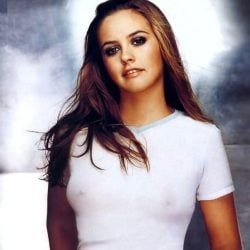 I've been reporting excitedly recently about the upcoming comedy Butter, which started off strong when it cast Jennifer Garner as an ambitious small-town equivalent of Hillary Clinton and then repeatedly upped the ante by building a fascinating cast around her. In a movie that uses an Iowa butter sculpting competition as an allegory for the 2008 Presidential primary, Butter features Modern Family's Ty Burrell as the womanizing Bill Clinton figure, Yara Shahidi as the upstart young girl joining the competition, and Rob Corddry and Twilight's Ashley Greene in unspecified supporting roles.
Now they've gone and made it even more interesting yet. Production Weekly reports that Alicia Silverstone is in talks to play Brooke, the young stripper who blackmails Burrell's character after their brief affair, and enters the butter-sculpting competition primarily to annoy Garner's high-strung character. In the original script, which I read and adored over the weekend, Brooke is written basically as a less smart, less ambitious Diablo Cody, with short jet-black hair and tons of tattoos and a general "I'm too old for this shit" attitude toward everything. She also eventually takes an, er, inappropriate interest in the Bill & Hillary characters' teenage daughter, presumably the role Greene will be playing.
Silverstone's defining role remains the ditzy, endearing Cher from Clueless, but if her comedic timing is still what it was in 1995, she'll be hilarious in this totally different role. Filming on Butter starts next week in Louisiana, and there's still one major role left to cast, the plump and awkward fourth entrant in the butter-sculpting competition who worships the ground that Garner's character walks on. If they keep up this pattern of awesome casting, we can only imagine what brilliant person will show up next.
Staff Writer at CinemaBlend
Your Daily Blend of Entertainment News
Thank you for signing up to CinemaBlend. You will receive a verification email shortly.
There was a problem. Please refresh the page and try again.