An Adult Jack And the Beanstalk?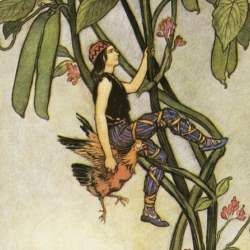 Yup, the rumors are true-- there's nothing that's just for kids any more. Fairy tales got fractured by Shrek way back when, but now they're being targeted solely at adults, apparently. Variety is reporting that D.J. Caruso has been selected to direct Jack the Giant Killer, an "adult take" on the story of Jack and the Beanstalk.
Hilariously, the "adult take" plot summary sounds a little like the plot of In the Name of the King: A Dungeon Siege Tale, which is something I never imagined anyone ever wanting to revisit. "When a princess is kidnapped, a long-standing peace between men and giants becomes threatened, and a young farmer is given an opportunity to lead a dangerous expedition to the giant kingdom to rescue her." If they change Jack's name to just plain Farmer, we'll know we're in for some bad accents and hilarity.
Collider raised the question of what this means for Caruso's planned trilogy of Y The Last Man, but since the Variety story doesn't mention when the beanstalk story will come up on Caruso's dance card, I have to assume it's a long way off. Then again, Caruso wants Shia LaBeouf to star as Y, and as long as LaBeouf's hand refuses to heal and keeps him out of other projects, it might be a while before we see that one. I can't imagine the world is really all that anxious
Your Daily Blend of Entertainment News
Staff Writer at CinemaBlend