Apollo 18 Teaser Poster: There's A Reason We've Never Gone Back To The Moon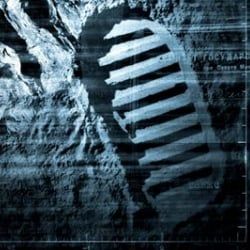 It's not often that you see a teaser poster for a movie that hasn't started shooting yet-- though J.J. Abrams' teaser trailer for Super 8 may have set a record-- but when you're filming and releasing a movie within a six-months period, you've got to get the ball rolling early. The Timur Bekmambetov-produced Apollo 18 brought on a new director last week, but it's still moving toward its March release date, and today the film's first teaser poster has hit over at IGN.
Check out the poster below and meet me after for some discussion.
As teaser posters go it's a pretty great one, with that intriguing and vague alien footprint next to the human moonboot and the tagline, "There's a reasons we've never gone back to the moon." The film will be a found footage-type thriller, about a secret manned mission to the moon that resulted in serious extraterrestrial disaster for the humans on board the ship. Apparently the majority of the film takes place on board the ship, so don't expect nearly as much lunar surface action as the trailer suggests, but it still might be an interesting take on the found footage mini-genre, which could use something a little more original than just another Paranormal Activity knockoff.
The movie also launched its official site today, which you can check out (speakers on!) here.
Staff Writer at CinemaBlend
Your Daily Blend of Entertainment News
Thank you for signing up to CinemaBlend. You will receive a verification email shortly.
There was a problem. Please refresh the page and try again.