Arnold Schwarzenegger Considering New Takes On Terminator, Running Man, And Predator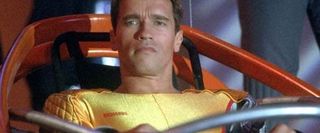 If you thought LebowskiFest was weird, just imagine attending "The Arnold Classic". It's an annual fitness event hosted by the great Arnold Schwarzenegger himself, and attended by legions of slavish and probably a little too-pumped up fans. This thing actually exists and since he's about to leave public office and return to private life, the Governator, in addition to pumping people up, took time out to pump his return to Hollywood too.
The Arnold Fans was there when he told the muscled flexing around him that he has something big in the works, something really big. Apparently he has a lot of options, with as many as 15 different scripts on his desk pitching a return to acting. Among those 15 Arnold says are, "The Terminator to remakes of Predator and The Running Man and all of those things. Then also a lot of original stuff too. " But he seems interested in something different. Arnold explains, "I am also packaging a Comic Book character right now."
Arnold Schwarzenegger in a cape? It was bad enough when he played a comic book villain. Mr. Freeze left me cold (insert groan). Whatever he decides to use as his return to Hollywood, we'll know soon. Arnold says he plan to announce something "by the end of March or the beginning of April."
Your Daily Blend of Entertainment News
Thank you for signing up to CinemaBlend. You will receive a verification email shortly.
There was a problem. Please refresh the page and try again.