Aubrey Plaza Gets Serious (And Sexy) In About Alex Trailer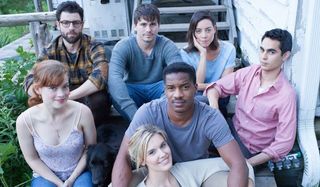 We've been seeing a lot of nostalgia over the summer of 1984 lately, but let's look back a little farther to the fall of 1983, when The Big Chill hit theaters and promptly won hearts. This ensemble drama, about a batch of old college friends who confront their current dilemmas together after attending the funeral of one of their own, is clearly the inspiration for the upcoming dramedy About Alex. And you can see it all over its new trailer.
As quoted above, "The Big Chill for Millennials, complete with star-stuffed ensemble," was actually how I described About Alex following its world premiere at the Tribeca Film Festival earlier this year. The bittersweet movie marks the directorial debut of its screenwriter, Jesse Zwick, who is following in the footsteps of his Academy Award-winning father Ed Zwick, producer of Shakespeare In Love and director of movies like About Last Night… (1986), Courage Under Fire, and Love & Other Drugs. But About Alex's more immediate draw is its aforementioned ensemble, made up of a slew of recognizable faces and affable personalities - all of whom get some screen time in the above trailer.
Parenthood's Jason Ritter plays the titular Alex, whose drawn his friends together after a failed suicide attempt. Taken's Maggie Grace and Non-Stop's Nate Parker play, Ben and Siri, the perfect couple who seems to have it all together, inspiring envy in the rest of the group for their romance and professional success. Parks and Recreation's Aubrey Plaza plays Sarah, who frets over Alex when she's not hooking up with the group's resident cynic Josh, played by New Girl's Max Greenfield. Rounding out the group is Max Minghella as the wildly successful Isaac, who has decided to bring his new, young girlfriend (The Evil Dead's Jane Levy) along for a weekend trip where discomfort is guaranteed.
You can see them all below in this terribly awkward poster:
It looks like this was a group shot that producers wanted more closely composed, but the placement of Plaza and Ritter is jarring and unnatural. Still Plaza comes off worse, as it appears they may have picked the head from one shot and the body of another. Her face seems to be floating about a foot ahead of where it should fall. It's also a bit disorienting to see the Parks and Rec girl who made an art form out of hipster sneering brandish such a big smile.
Sepia-tinted mess of a movie poster aside, About Alex is an earnest attempt to recapture the magic of movies like The Big Chill, which explored themes of friendship, love, growing up, and failure in a warm ensemble setting. You can see that for yourself when About Alex opens in theaters and On Demand on August 8th.
Your Daily Blend of Entertainment News
Staff writer at CinemaBlend.