August: Osage County Poster: Wow, That's A Lot Of Famous People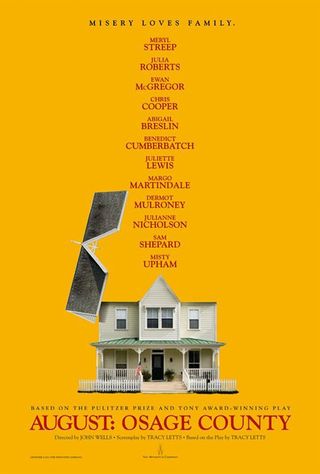 Sure, it's only the beginning of summer blockbuster season, but why not start looking ahead to the Oscar race? You might not be ready for it, but the Weinstein Company most definitely is, launching the teaser poster for their huge awards contender August: Osage County on Yahoo!. The image of the house will be both familiar to those who have seen the play and wildly different. Tracy Letts' Pulitzer-winning drama takes place on a dollhouse-like set, with each floor of the expansive Weston house opened up toward the audience. Here we're seeing the place from the outside, an angle you never get beyond the hint of a front porch off stage left.
It's wise that they didn't try to show off their cast and ape the poster for the Broadway version, though this being a Weinstein Company production, they'll inevitably roll out the cast one by one in a series of first-looks, or whatever they can do to drum up interest. And when you've got a cast this famous, you don't really need their faces to show them off anyway. You've got three Oscar winners, with Meryl Streep, Julia Roberts and Chris Cooper. You've got Emmy winner Margo Martindale. You've got Oscar nominees Sam Shepard, Abigail Breslin, and Juliette Lewis. You've got Benedict goddamn Cumberbatch and Ewan goddamn MacGregor. You can't lose!
Set for a November 8 release, August: Osage County will be hoping to dominate a whole lot of "And I'd like to thank the Academy" speeches before you know it.
Your Daily Blend of Entertainment News
Staff Writer at CinemaBlend
Your Daily Blend of Entertainment News
Thank you for signing up to CinemaBlend. You will receive a verification email shortly.
There was a problem. Please refresh the page and try again.