Avengers: Age Of Ultron Just Passed A Huge Box Office Milestone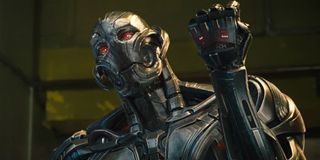 Avengers: Age of Ultron has officially been in theaters a total of one day and it is already breaking some crazy records at the box office. As it turns out, the film earned over $80 million in its first day alone, which is more than than the first Avengers and has placed it as the second highest first day earning of all-time.
According to Deadline, Disney first reported the earnings from the first day at $84.46 million, very close to the initial industry estimate of $85 million. That incredibly high earning is propped by Thursday night previews where Avengers 2 made $27.6 million (for comparison, the first Avengers made almost $10 million less than that on preview night). Age of Ultron's first day earnings put it right behind the leader of opening day, Harry Potter And The Deathly Hallows Part 2 which earned $91.07 million on its day one. When you consider that Deathly Hallows Part 2 was the end of an eight movie series (and an insanely popular one at that), coming in a close second is quite the incredible feat for Avengers 2.
There have been some crazy estimates going around for box office earnings this weekend for the sequel, running between $200 million and $210 million, but they are not too far-fetched considering the amount of sold-out time slots along with the high number of showings in theater. Deadline confirms that there are now 52 showtimes today at the Hollywood Arclight and New York City's Regal E-Walk. That's a whole lot of Avengers time.
It comes as no surprise that the Marvel film is breaking records and taking names. For months, nay years, fans around the country have been building their anticipation. Not only has excitement for a sequel been growing since the undoubted success of Joss Whedon's first take on The Avengers both critically, and commercially. But also, the past months leading up to the film have been overflowing with teasing footage, hilarious interviews, and exciting reveals. Marvel has been marketing hard (some argue a little bit too hard) with a crazy amount of TV spots, trailers, behind-the-scene looks, and more.
Whether or not you feel like you've been overloaded with the promotional material, it clearly did its job. Fans made sure to be there opening day to get their glimpse of Avengers: Age of Ultron and see whether or not it lived up to all its hype. Over here at Cinema Blend, we were more than satisfied with the final product. You can check out our review for the wildly entertaining adventure here. And expect Ultron to beat more box office records by the end of the weekend.
Your Daily Blend of Entertainment News
Thank you for signing up to CinemaBlend. You will receive a verification email shortly.
There was a problem. Please refresh the page and try again.