A.M. Awesome: Ron Livingston Does Keyboard Cat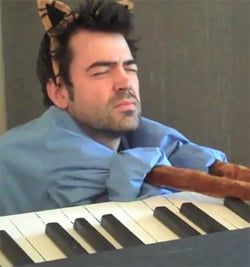 Maybe this doesn't exactly qualify for A.M. Awesome as much as some other things, but this video will surely get a chuckle out of anyone who is a fan of relentless internet memes that for some reason will just not go away.
Keyboard Cat surfaced on YouTube in 2007, garnering some 8 million views and spawning endless copy cat (pun intended) videos of the feline piano player. You'd think that after 3 years the trend would have died out, but the appeal of the video remains strong for one Ron Livingston, who proves to us that Keyboard Cat is still alive and kicking. Why did the Office Space star decided to replicate an internet sensation more than three years after it's inception? The world may never know. What we do know is that Ron Livingston is awesome and so is Keyboard Cat so the next time you need to play someone off, try out this version of an old classic to spice things up.
Original:
Your Daily Blend of Entertainment News