Bebop And Rocksteady Steal The Spotlight In New Ninja Turtles 2 Trailer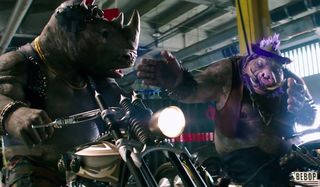 Despite being defeated in the last Teenage Mutant Ninja Turtles movie, Shredder is returning for vengeance in next month's sequel, Out of the Shadows, but this time, he won't just have the Foot Clan as his soldiers. Also serving him will be Bebop and Rocksteady, the simple-minded minions who've been a part of the Turtles' history since the late 1980s, but are finally making their cinematic debut. We've seen the humanoid warthog and rhino in previous trailers, but in this latest preview, these two straight up hijack it from our reptilian protagonists.
The latest Teenage Mutant Ninja Turtles: Out of the Shadows trailer starts out with the Turtles watching a basketball game on the catwalk high above the court, enjoying themselves from the "best seats in the house." Unfortunately, Michelangelo brought pizza to war, and one of the slices slips from his hand and lands on the court, leading one of the players to trip. It's yet another example of Turtle shenanigans, but then Bebop (played by Gary Anthony Williams) and Rocksteady (played by Sheamus) charge through the screen, declaring that this is their trailer now.
Forgoing any time of the two of them as normal humans, the Bebop and Rocksteady-controlled trailer shows their mutated selves causing all kinds of chaos and destruction. There's only one message they want to pass along to the viewers: Turtles are out, Rhino and Warthog are in. Of course, as those who've seen the '80s animated series know, Bebop and Rocksteady aren't the sharpest tools in the shed. This is especially the case for Rocksteady, who stupidly questions what intruders look like and later fires a tank in a plane that's currently flying. Yep, not smart at all. Fortunately for him and Bebop on that plane, they make it out in a better spot than the Turtles, who are about to go over a waterfall.
Starting out as regular (albeit unusually dressed) criminals, Bebop and Rocksteady will be recruited by Shredder in Teenage Mutant Ninja Turtles: Out of the Shadows to be mutated into their animalistic forms by scientist Baxter Stockman (played by Tyler Perry). This will help even the score against the Turtles, though brawn is only as good as how you control it with your brains. All these villains, on top of the alien Krang invading Earth, means the Turtles will face their toughest challenge yet not just in this continuity, but arguably in all of their theatrical appearances yet.
You can see Bebop and Rocksteady in action when Teenage Mutant Ninja Turtles: Out of the Shadows hits theaters next Friday, June 3.
Your Daily Blend of Entertainment News
Connoisseur of Marvel, DC, Star Wars, John Wick, MonsterVerse and Doctor Who lore. He's aware he looks like Harry Potter and Clark Kent.
Your Daily Blend of Entertainment News
Thank you for signing up to CinemaBlend. You will receive a verification email shortly.
There was a problem. Please refresh the page and try again.