Bee Movie 2 And Shrek Goes Fourth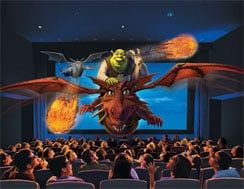 Unlike their competitors over at Pixar, the guys at DreamWorks Animation have no problem cranking out sequel after sequel after sequel. Their most recent movies in Bee Movie and Shrek the Third may have taken a critical beating, but it sounds like they made enough money that DreamWorks isn't done squeezing them for dollars.
The guys at Moviehole recently spoke to DreamWorks head Jeffrey Katzenberger, and asked him whether we'll see more of the same from them. In the case of Shrek, Katzenberg confirmed what we already heard, saying the answer was absolutely. Speaking of Shrek 4 Katzenberger says, "Yeah, we're working on it now, so it'll be 2010 – and it'll be in 3D." And predictably, they're still calling it Shrek Goes Fourth.
So what about more Bee Movie? It's not the cash cow Shrek has been, but Katzenberg doesn't seem to have ruled Bee Movie 2 out. He says they're willing to do anything Jerry Seinfeld wants to do, and it sounds like they have no idea what Seinfeld wants to do yet. If Jerry wants more bees, there's a good chance he's going to get it.
Read all of MH's interview with Katzenberg by clicking over there.
Your Daily Blend of Entertainment News
Thank you for signing up to CinemaBlend. You will receive a verification email shortly.
There was a problem. Please refresh the page and try again.