Behind The Scenes At Pixar: Talking With The Creators Of Cars 2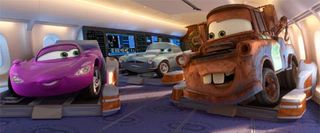 Pixar Studios is an incredible place. It's not that you walk into the main building and see a life-size Mike and Sully from Monsters Inc. on your right and a case filled with Academy Awards on your left. It's not that if you continue down the center hall you see a gift shop filled with exclusive merchandise, a fully-stocked cereal bar, video-game center, or full café. It's not that at the end of the hall are screening rooms that are not only used for the viewing of dailies and test footage, but events like the showings of the original 35mm print of Evil Dead 2. What's incredible about it is that the building houses some of the greatest minds in the film industry and they are able to resist all of those amazing things and create some of the greatest movies of the last 16 years.
Two weeks ago I hopped on a plane out of Los Angeles and traveled up to Emeryville, CA to visit the Pixar Headquarters in celebration of the release of Cars 2 on Blu-ray on DVD (which happens today). In addition to getting a tour of the facility – which, in addition to being more impressive than you could imagine, is also basically a museum dedicated to everything Pixar – myself and a group of other journalists had the opportunity to speak with the filmmakers behind the recently released sequel and get a complete picture of just how much work goes into the production of a Pixar movie.
Seeing Into The World Of Cars 2
"At our peak we had about 300 people work on the film," producer Denise Ream said. "So keeping everyone moving for over two plus years of actual shot production takes a lot of effort and I fortunately have a lot of great people working with me." But for as many moving pieces there may be and amount of man hours required to finish the movie on time, there is always one element that's held above all others. "At the end of the day, what really keeps me up at night is making sure that the story's great," Ream said. "We make the movie eight times – and by that I mean we screen the movie eight times, we do the brain trust screenings and those are really stressful. They're scary days."
With all of those screenings comes changes, and according to the producer a lot of that process can be seen on the home video release. Ream said, "We were originally going to have seven races, which it became pretty clear we didn't have enough time, that the movie was going to be too long if we did that. So that was probably the biggest change from where we wound up." The plan was, however, for the movie always to be a spy movie, travel away from Radiator Springs (where most of the first film took place) and be Mater's story instead of Lightning McQueen's. This came from John Lasseter, who not only directed Cars and Cars 2, but is the CEO of Pixar, doing the press tour for the first film, imagining fish-out-of-water situations for the tow truck, like driving on the wrong side of the road in London.
But just what is it about the Cars universe that children seem to latch on to? While neither the first nor the second film were the studio's most profitable films at the box office, merchandise, such as toys, has broken records. The true appeal is even a mystery to the people behind the movies. "I've been asked that question and I don't think I've ever been able to come up with a good answer," Ream said. "They're just, for some reason, really likable, and I think people identify with them. There's just an every-person quality about Mater."
Designing The Characters
One of the challenges behind the making of the film was not only animating and designing the new characters in Cars 2, but working with the companies that create the automobiles that some of the characters are based on. For example, while designing Raoul CaRoule, the blue French rally car, Citroen contacted the animators and said that the car looked too much like their hatchback. "I had to sit down a diagram out why it's not the same, like, everything that's different," said character art director Jay Schuster. "It's paper work of the design process on this kind of movie."
Signing on to the new film before learning how many characters would be introduced, Schuster said that Cars 2 features 150 new characters with 1,050 variants of those characters. "I haven't officially confirmed it, but it sounds like a record," he joked. One of those new designs introduced an interesting challenge. Finn McMissile, the spy car voiced by Michael Caine, is outfitted with multiple different types of weapons and gadgets to help him escape and survive tight situations, but where do you fit all of those inside of a car? "It was decided that no, we don't want him transforming," Schuster said. "We don't want body panels unnaturally unfolding or doing all that stuff…we didn't want the extra seem lines or cut lines. So that was the trick, designing the outer shell as though he is just a normal pedestrian car, and then we went in and found places we could have stuff unfold from."
Another question was whether the voice-actor selected for each character affected how they were designed. Cars 2 features an impressive number of new actors providing voices for the cars, including the aforementioned Caine, Emily Mortimer, Eddie Izzard, Jason Isaacs and John Turturro. But while that may play a part sometimes, that wasn't really the case with this most recent movie. "For the majority of these characters I didn't know until the very end," the designer said. "Honestly, they announced Michael Caine when [the character] was done and it was all that the animators could do to go back in and start dialing in the mouth shapes and the eye shapes and that's something they do easily because these models are so robust and well built."
Bringing It To Life
With technology advancing as far as it has in just the last decade alone, one of the big questions I had for the animators was if there was a learning process that comes with each new project. Speaking with supervising animators Dave Mullins and Shawn Krause we learned that the way software typically advances for the studio is by necessity. "When the director comes to us and says, 'We need talking cars that can drive on the ground,' we go, "Okay, we need some of the tools, people to help us figure out how to make some software that does that…'" Mullins said. "So every film, it may be getting more advanced or complicated in some ways, but it's because of the things we need it to do. So we grow with it."
As for animating the cars themselves, another question dealt with where the line was drawn between treating the characters as anthropomorphic figures and treating the characters as cars. The latter was mostly for the race scenes, particularly whenever the cars crash into each other. Starting to talk about why it would be bad to have human-like characters run into each other like automobiles, Krause interjected, screaming "Ow, my wheels! Oh, it's burning, can somebody…!" Needless to say, the point was made clear. "You want to be really careful," Mullins said. "There are scenes where Torque is being interrogated and we kind of pushed it to a level, 'Oh, that seems a little dark' and a lot of people in the studio reacted to it and we sort of backed off."
Then there's the way that animators look at the finished product. Because the people supervising the creation of the film have to look at every millimeter of every frame, it would be understandable if they would never want to see the final print. "We'd be watching the movie, I'd be sitting with my wife and there'd be a joke and she'd say, 'Did you see that?'" Krause said. "Yeah, about a thousand times every day."
According to the supervising animators the key to approaching the last cut is to wait a while before repeat viewings. "Up was on the Disney Channel recently and I watched it for a while, I mean, I have all the DVDs, but I haven't watched it for a while and it was on the other day and you stop there and start watching it and you can't stop watching it. It's like visiting an old friend or something like that," Krause said.
Animation is an incredible medium. Unlike live-action filmmaking, animation requires the building of entire universes for characters to inhabit and the sky is the limit on creativity. And what's more, nobody does it quite like Pixar.
Cars 2 is out on Blu-ray and DVD now. To learn more about the movie, see stills, concept art, posters and trailers and read our theatrical review, be sure to head over to our Blend Film Database.
NJ native who calls LA home; lives in a Dreamatorium. A decade-plus CinemaBlend veteran; endlessly enthusiastic about the career he's dreamt of since seventh grade.
Your Daily Blend of Entertainment News
Thank you for signing up to CinemaBlend. You will receive a verification email shortly.
There was a problem. Please refresh the page and try again.