Ben Stiller Bringing Back Tropic Thunder's Fake Trailers For A Web Series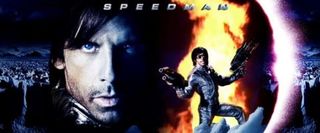 Fake trailers are one of the evergreen and consistent recurring memes on the Internet, giving fans and sometimes even filmmakers the chance to do everything from fake a Batman trailer to inventing a new hero who'll eventually get a movie of his own. The fan-made and jokey trailers will always have a comfortable home on the Internet, but they reached a kind of legitimacy in 2008, when three fake trailers ran before Tropic Thunder, both getting huge laughs and introducing the three actor characters we'd be following into their Vietnam movie.
Now Ben Stiller, the director of Tropic Thunder and star of the Scorcher 6 fake trailer, wants to keep the silliness going. Deadline reports Stiller and his Red Hour Media are going forward with The Fake Trailer Project, a series of digital shorts in the tradition of the Tropic Thunder trailers, including the involvement of A-list actors and directors. The shorts will be distributed online, one per week, sometime last this year, with "a partner to be named shortly"-- probably something like Funny or Die, but hey, who knows what site might want to step up to the plate on this. Stiller already has some of his familiar collaborators on board, including Tropic Thunder co-writer Justin Theroux, Reno 911! veterans Tom Lennon and Ben Garant, and perhaps most surprisingly, Clueless director Amy Heckerling.
If we use Funny or Die as an example, where they can get everyone from Paris Hilton to Allison Janney to spoof their reputations and get silly on camera, the possibilities here are really endless. Participating in a fake trailer to go online doesn't take much time and offers pretty positive free publicity, and given how many people Stiller knows he can probably get pretty much anyone to participate. Here's hoping Robert Downey Jr. and Tobey Maguire make the list-- I've been dying for a sequel to Satan's Alley since 2008.
Tropic Thunder - Fake Trailers!! (opens in new tab) - Watch more Funny Videos (opens in new tab)
Staff Writer at CinemaBlend
Your Daily Blend of Entertainment News
Thank you for signing up to CinemaBlend. You will receive a verification email shortly.
There was a problem. Please refresh the page and try again.