Benedict Cumberbatch Joined By James McAvoy In WikiLeaks Drama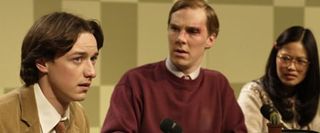 Benedict Cumberbatch is presently to believed to be capable of playing most anybody-- Sherlock Holmes, an upcoming Star Trek villain, or hey, why not the fire-breathing dragon of The Hobbit? The up-and-coming British star isn't exactly a household name yet, but with a name that memorable he might be on his way there, and especially at the rate that he's snagging major roles that give us all a reason to pay attention.
The latest, it's now confirmed, will be playing controversial Wikileaks founder Julian Assange. According to Variety James McAvoy-- who worked with Cumberbatch in both Atonement and the very silly and wonderful Starter for 10-- is in talks to co-star as Daniel Domscheit-Berg, who wrote the book that will be the basis of the film. Cumberbatch had been rumored, alongside Joel Kinnaman, for the film back in October, but only the Cumberbatch part turned out to be true, of course.
Domscheit-Berg was much more than just an Assange biographer. He met Assange in 2007 and eventually became a spokesperson for WIkiLeaks and Assange's right-hand man, led by the belief that the two could change the world by accessing extremely sensitive information about world governments and exposing them. Domscheit-Berg left in 2010, believing Assange was failing to "display journalistic integrity;" according to Variety many blame Domscheit-Berg's departure for Assange's bombshell decision to release 250,000 U.S. diplomatic cables. Domscheit-Berg went on to write Inside WikiLeaks: My Time With Julian Assange At The World's Most Dangerous Website, which will be adapted for the film to portray Assange as a noble crusader who "eventually becomes drunk with power as he grows increasingly paranoid and obsessed with winning the war of information," according to Variety.
Assange is a polarizing figure who, since he's still alive, might prove difficult to depict in typical biopic form. But the idea of a film about two men who believe they're at the center of an information revolution, only to have one of them lose his grip, is fascinating-- and not unlike the relationship at the center of X-Men: First Class, which McAvoy also stars, of course. They'll be scheduling production of the WikiLeaks film around McAvoy's X-Men schedule, but with Bill Condon set to direct and timely subject matter, we ought to expect to see this fascinating film soon.
Staff Writer at CinemaBlend
Your Daily Blend of Entertainment News
Thank you for signing up to CinemaBlend. You will receive a verification email shortly.
There was a problem. Please refresh the page and try again.