Benedict Cumberbatch And Kelly Macdonald Join Joe Wright's Stunning Anna Karenina Cast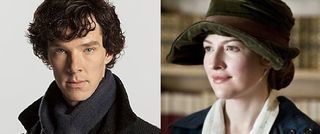 I'm a big fan of Joe Wright's newest film Hanna-- my full review posts later today-- and once again excited about the director of Pride & Prejudice and Atonement, who baffled me and many other people by turning in last year's drab and pandering The Soloist. To follow up on his new teen-assassin film Wright is moving back to classical literature, preparing to tackle Leo Tolstoy's Anna Karenina and assembling a dynamite cast to help him do it. Keira Knightley, Aaron Johnson and Jude Law are all confirmed for roles, Atonement co-stars James McAvoy and Saoirse Ronan are trying to make the scheduling work, and as Wright told The Playlist, two more up-and-comers are on board as well.
"Kelly Macdonald's confirmed, Benedict Cumberbatch is confirmed. I'm still waiting on Saorise and James," Wright told them yesterday. Cumberbatch actually makes this even more of an Atonement reunion, having played the actual rapist who goes off scot free when Ronan's character Briony accuses McAvoy instead. The British actor has been working steadily for years in all kinds of films you might recognize him in, and after appearing in last year's Four Lions he's got a huge 2011 lined up, with roles in Tinker, Tailor, Soldier Spy, Spielberg's War Horse and the Rachel Weisz drama The Whistleblower. Macdonald isn't doing too bad for herself either, stealing scenes in No Country for Old Men and leading herself to a lead role on Boardwalk Empire as the ambitious Irish immigrant Margaret Schroeder.
As The Playlist pieces the cast together, they've got Knightley starring in the title role, with Law playing her husband Karenin and Johnson her lover Vronsky. Once McAvoy and Ronan get their schedules put together-- he just had a baby, she's likely waiting to settle a deal for The Hobbit-- they'll be able to decide on this Wright reunion, and production is set to start in the fall. Even without McAvoy and Ronan this is a British acting supergroup for the ages, and if you're feeling wary about Wright after The Soloist, please see Hanna this weekend and get as excited about this as I am.
Staff Writer at CinemaBlend
Your Daily Blend of Entertainment News
Thank you for signing up to CinemaBlend. You will receive a verification email shortly.
There was a problem. Please refresh the page and try again.