Bizarre Hitler Comedy Is Ruling The Box Office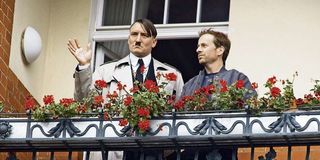 When there's talk of a movie about Adolf Hitler, most of you probably assume it's a grim drama about the horrors of World War II and atrocities of the Holocaust, right? Well, apparently an Adolf Hitler comedy (yes, comedy), Look Who's Back, has beaten out Pixar juggernaut Inside Out to take the top spot at the German box office.
According to The Hollywood Reporter, Look Who's Back, described as a "Borat-style comedy" soared to the number one box office slot in Germany in its third week of release. The film sold 320,000 tickets, adding an additional $3 million to its overall haul, which currently sits at $13 million.
Based on a best-selling novel by Timur Vermes, David Wnendt adapted the source, which sees Hitler dropped into modern society. The book sold 14 million copies, and the story finds the dictator waking up in present-day Berlin with no memory of the events after the end of World War II. To promote the film, they decked out star Oliver Masucci in full Hitler regalia and sent him out into public on a hidden camera tour, where he proceeded to mock a group of neo-Nazis having a rally, as well as more run of the mill activities, like hanging out at cafes and book stores.
Much like Borat, Look Who's Back looks to play off of the reactions of people on the street for laughter. At the same time, however, they want to use this humor to drive home a more serious point. And while they want to entertain, Wnendt and company also sought to highlight the increased presence and influence of the far right and racist groups currently rising in Europe, and drive home the fact that, if measures aren't taken, there is a very real danger that history could repeat itself.
With the box office success, which appears to be on the upswing, whatever the formula for Look Who's Back, it is certainly working. Knocking off a Pixar movie is a big milestone for any film. In addition to Inside Out, it also topped Ridley Scott's The Martian, Hotel Transylvania 2, and Paranormal Activity: The Ghost Dimension (though to be fair, the latest Paranormal installment didn't exactly set the box office on fire anywhere in the world).
This marks the second consecutive big hit for Constantin, the producer and distributor. Last year they released something called Suck Me Shakespeer 2, a school comedy that went on to sell more than 7 million tickets and earn $65 million at the German box office. Between that title and an Adolf Hitler comedy, they're obviously not shy when it comes to pushing buttons and trying to be provocative.
Your Daily Blend of Entertainment News
Thank you for signing up to CinemaBlend. You will receive a verification email shortly.
There was a problem. Please refresh the page and try again.