Blade Runner Reboot Close To Becoming A Reality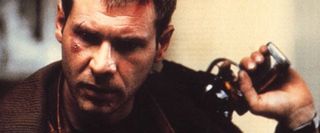 This was inevitable. Previously there had been vague talks of a Blade Runner sequel which director Ridley Scott seemingly wanted nothing to do with. Now, Alcon Entertainment is working towards buying rights to the sci-fi classic in order to line up a reboot, says THR.
Currently, Bud Yorkin has the rights to the property in his back pocket, but Alcone is very close to acquiring the rights from him. Yorkin, who was an executive producer on Scott's 1982 opus, intends to ditch the rights, but also will be sticking around as producer when the reboot finds its way to production. His wife Cynthia will co-produce the film.
It's never good news to hear that one of your favorite films could potentially be shamed by a bad remake, but there is a silver lining. Alcon may just be blowing smoke to quell the masses, but they've released a statement to ease everyone's nerves.
Blade Runner isn't a film that needs to be modernized, but a film that was that visually progressive in 1982 could potentially push the limits of film making today. Instead of bitching about "ruining a classic" sound off in the comments about who you'd like to see take the helm for this piece. Should it be someone who can really handle sci-fi like Neil Blomkamp? Or someone more over the top visually like Gaspar Noe?
Your Daily Blend of Entertainment News