Brad Pitt Fights For Aronofsky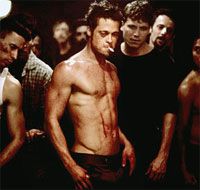 Brad Pitt may finally team up with Darren Aronofsky. Pitt, not Jackman, was originally supposed to star in The Fountain, but dropped out of the film during it's excruciatingly long production process. Now HR says he's in negotiations to star in Aronfsky's next movie, The Fighter.
The film is based on the real life of an Irish boxer named Mickey Ward. The Fighter chronicles his life over several decades, from his early days on the streets to his rise as a World Champion. Already in the film is Mark Wahlberg, who plays Ward. Pitt would play his trainer and brother Dick Eklund.
To me, the project has always sounded like kind of a give-up on the part of Aronofsky. He's spent his career tackling challenging and outside the norm material. His films have been brilliant, but they haven't exactly amounted to box office success. Now he's doing a lame boxing biopic and it seems like kind of a waste of his talents, or at the least Aronofsky's bid to toss out his credibility and finally cash in on being a highly touted director. It's too bad Brad Pitt had to wait till now to get in an Aronofsky film. Pitt's an underrated actor, and it might've been exciting to see him work with Aronofsky, back when he was still making movies that were interesting.
Your Daily Blend of Entertainment News