Brad Pitt's World War 2 Tank Drama Fury Adds Shia LaBeouf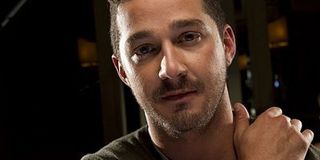 Brad Pitt is heading back to World War II on behalf of David Ayer's Fury, and now he's got a young whippersnapper to go along with him. Though you'd think he'd never agree to play a sidekick again after Indiana Jones and the Kingdom of the Crystal Skull, Shia LaBeouf has signed on to join Pitt in Fury, playing a member of the five-man crew who pilot a Sherman tank behind enemy lines during the last days of World War II.
According to Variety LaBeouf is the first person to sign on to the ensemble, which suggests three more slightly less huge names could sign on still. If Fury were a typical war film, LaBeouf would be the green youngster who is optimistic about battle but is shocked by what he sees; either he dies and gives purpose to the grizzled hero (Pitt in this case) to finish out the battle, or he survives to go home and tell tales of bravery (a la Matt Damon in Saving Private Ryan). But after last year's surprise success End of Watch, Ayer doesn't seem like a guy who's interested in making a traditional war film-- and LaBeouf, for all his feuding with Alec Baldwin and getting naked for Lars von Trier, LaBeouf doesn't seem all that interested in the traditional.
Pitt has a high bar to clear in returning to World War II, with Inglourious Basterds still pretty fresh in our mind. LaBeouf, as disastrous as he can be in the wrong role, is by no means an automatic knock against Fury. Let's see if the rest of the cast can pan out and make this look as solid as we want it to be.
Staff Writer at CinemaBlend
Your Daily Blend of Entertainment News
Thank you for signing up to CinemaBlend. You will receive a verification email shortly.
There was a problem. Please refresh the page and try again.