Bruce Willis and 50 Cent Together At Last For Heist Film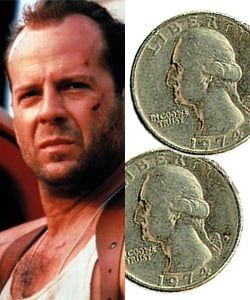 It's a match made in heaven. Bruce Willis has been an international movie star for the past three decades, and Curtis "50 Cent" Jackson is a gangster turned rapper who has been shot nine times. I mean why haven't these guys shared the screen yet?
Fortunately for us Cent and partner Randall Emmett have set up a $200 million fund under Emmett's Cheetah Vision company to produce ten films, of which this Willis/50 pairing will be the first. Set Up will be a heist film set around a diamond caper gone bad, thrusting a couple friends into a deadly situation.
It's unclear exactly what role the two actors will play in the film, whether they are the two friends thrown into the mix or on opposite sides of the action, one as a cop, the other a robber. More on this as details unfold.
Jackson and Emmett are currently producing yet another Bruce Willis actioner called Catch .44, which follows three women who get caught up with a shabby truck driver/line cook for what can only be some zany antics. The film will also star Malin Akerman and Forest Whitaker.
There's no word yet about when we should expect Set Up, but it is currently being shopped to foreign buyers at AFM, according to Variety, which ends tomorrow. Whether or not the fate of the film relies on a sale isn't mentioned.
Your Daily Blend of Entertainment News