Bruce Willis And Ambyr Childers Join Sci-Fi Thriller Vice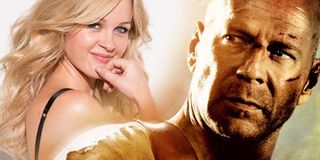 A surprise hit of last year was Universal's leanly budgeted horror-thriller The Purge. The $3 million movie imagined what the United States would look like if for one 12-hour span a year, every imaginable crime was legal. The concept of being able to freely engage in our most nightmarish desires drew audiences to the tune of $89 million dollars, inspired a sequel, and now a seemingly similar sci-fi ripoff.
Deadline reports Bruce Willis is set to front Vice alongside Ambyr Childers. Coming from Emmett/Furla/Oasis Films, the producer of the harrowing military drama Lone Survivor, Vice will be set in a future where mankind enacts their lowest, cruelest desires without repercussion. All one need do is travel to a special resort that has an endless supply of androids, ready to take on abuse of any sort.
Willis has signed on to play Julian, the owner of this perverse pleasure palace. Childers, who appeared in the Denzel Washington/Mark Wahlberg thriller 2 Guns and the chilling horror tale We Are What We Are, will play an android who becomes self-aware, escapes Julian's depraved resort, and sets out to shut it down. From this premise, it seems safe to assume that these androids will essentially look human. Why else cast an ingénue as pretty as Childers?
Basically, it sounds like a mix of The Purge and Cloud Atlas, which could be a pretty great combination. Sure the former was a big ROI winner, and the latter was a massive flop, but these elements of human subjugation could blend into a fascinating science-fiction adventure. Plus with a budget of just $15 million, the production company isn't taking a major risk, especially with a star like Willis on board. While Willis is the headliner, it sounds like Childers is being lined up to be the hero. Having been impressed with her turn in We Are What We Are, I'm rooting for her.
Notably, this isn't the only Emmett/Furla/Oasis production that Willis has boarded. He just wrapped on The Prince, an action-thriller directed by Brian A. Miller (Officer Down, House of the Rising Sun) and written by Vice scribes Andre Fabrizio and Jeremy Passmore. Jason Patric will star as a former Las Vegas enforcer who is forced to return to Sin City, which is ripe with enemies, in search of his missing daughter. John Cusack and 50 Cent co-star.
Willis is also set to step into E/F/O's Captive, replacing former rival Arnold Schwarzenegger. This thriller has Willis playing a real estate developer who has to struggle for his survival and freedom after being abducted for a ransom scheme in Brazil.
Vice is expected to role into production on March 15th in Alabama.
Staff writer at CinemaBlend.
Your Daily Blend of Entertainment News
Thank you for signing up to CinemaBlend. You will receive a verification email shortly.
There was a problem. Please refresh the page and try again.