Casey Affleck Admits Parts Of Joaquin Phoenix's Rap Documentary Are An Act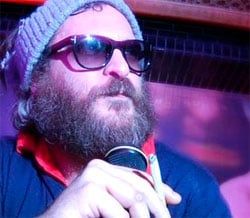 If you're hoping the new Joaquin Phoenix movie I'm Still Here will provide answers about what's going on underneath his oddly bushy beard, forget it. Ever since the Oscar nominated actor's bizarre appearance on Letterman in 2009 in which he announced to America that he's was retiring from acting to pursue a rap career, we've wondered whether the whole thing was a hoax. Now the documentary being shot during the height of his breakdown is set to hit theaters and if you've read my review you know that it's not answering any questions. It's worth seeing, but only because there's a Katey Rich cameo. Look for her during a scene in which Joaquin Phoenix is interviewed by a table full of New York journalists.
The movie's filmmakers are doing their best to keep the myth alive by remaining evasive. Director Casey Affleck plays coy when he's asked about the legitimacy of the film, which is being released as a documentary, but which many suspect is a massive, scripted, prank in the mold of an utterly unfunny Borat. Talking out of both sides of his mouth to WENN Affleck says, "Elliptically, I would say... I sincerely don't want to influence people's interpretation. I can tell you there is no hoax. It makes me think of Candid Camera or something..." So it's not a hoax… in the sense that it's not like Candid Camera. Ok, but that still seems to leave a lot of room for it to be, you know, not real.
Affleck understands people's confusion. The whole thing's pretty weird. He says, "I'm very interested to hear those sorts of reactions and I appreciate that point of view, and I understand how a lot of this movie could be confusing in terms of, 'Oh well, it seems like something's real or not real."
But in the same interview where he says it's not a hoax, he admits that some of it's flat out fake. For instance there's Sean "Diddy" Combs' cameo in the film. He shows up midway to listen to Joaquin's record and brush him off. The scene's pretty awkward and feels a little staged. Affleck basically admits that it is. He says, "The role that (Combs) played in Joaquin's life was to be the bearer of bad news. He was the hammer that crushed the dream. All of that is a little bit of an act."
So there you have it. I'm Still Here is absolutely real, except for all the parts that are a little bit of an act. Wait… what?
Your Daily Blend of Entertainment News