Cast Of Maze Runner 2 Disturbed Indian Burial Ground, Which Has Never Gone Wrong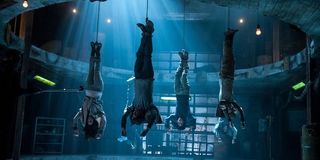 Apparently the cast of Maze Runner: The Scorch Trials has never seen a horror movie. Granted, many of them are pretty young, so it's possible, but there is one very important lesson frequently imparted by the genre that they could have done very well to heed: don't mess with Native American burial grounds. That never ends well, but it's exactly what they did, and now groups are demanding an apology.
During production outside of Albuquerque, New Mexico, members of the cast and crew removed artifacts belonging to the Pueblo people, despite being told not to, a fact star Dylan O'Brien admitted in an interview on Live with Kelly and Michael. A 19-year-old fan named Maeve Cunningham has started a Care2 petition demanding that O'Brien, director Wes Ball, and others apologize. She said:
And it looks like Cunningham is far from alone in her feelings, as the online petition has now gathered more than 22,000 like-minded supporters. Part of the issue is O'Brien's flip attitude towards the whole thing. The Scorch Trials filmed at Diamond Tail Ranch, a 22,000 acre property that is home to many Native American relics and artifacts. During the interview he said:
You can check out the whole interview below.
Dylan O'Brien even quips about how they could incur the wrath of a Native American curse, but if horror movie have taught us anything, it's that the production of the next chapter, Maze Runner: The Death Cure, is going to be besieged by all manner of harrowing incidents and will itself become the subject of another horror movie in the future.
All joking aside, there are obviously quite a few people who share Cunningham's outrage and sense of disappointment in the cast and crew of Maze Runner: The Scorch Trials. She hopes that the petition will lead to the cast and crewmembers apologizing, and that hopefully it will lead to them considering the impact their actions have on others.
Your Daily Blend of Entertainment News
Thank you for signing up to CinemaBlend. You will receive a verification email shortly.
There was a problem. Please refresh the page and try again.