Channing Tatum's Blunt Opinion Of G.I. Joe: The Rise Of Cobra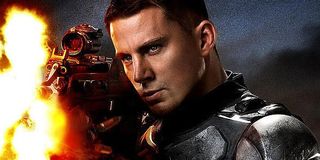 It's always good to hear actors say how they really feel about previous projects that we've always assumed they secretly hated. It's refreshingly human. And so hearing Channing Tatum's declaration that he hates G.I. Joe: The Rise Of Cobra will probably make you love the aesthetically pleasing thespian even more.
Channing Tatum felt open enough to make this admission during his appearance on the Howard Stern Show, where he gave some surprising insight into how he was really pushed into taking the leading role as Duke in the Stephen Sommers-directed film. As soon as Howard Stern even mentioned G.I. Joe, Tatum declared, "I fucking hate that movie." This led the recording studio to erupt with laughter, but Stern was immediately intrigued as to why he despised the action adventure - especially since it was really the film that propelled Channing Tatum into mainstream Hollywood's consciousness. Tatum then explained:
Tatum was also immediately attracted to the large sum of money that was being offered to him to star in G.I. Joe. However, between receiving plaudits for his turn in Coach Carter and the final draft of G.I. Joe: The Rise Of Cobra being completed, Tatum's career had reached such a point that he was thinking more responsibly about his roles and their effect on his career.
Of course, because he'd already signed a three-picture deal with Paramount Pictures Channing Tatum didn't actually have a choice. In fact, he stated that if he hadn't done G.I. Joe: The Rise Of The Cobra then Paramount had every right to sue him. He immediately recognized that the script for G.I. Joe: The Rise Of Cobra "wasn't any good," and he even looked to play damage control by trying to take the more intriguing role of Snake Eyes.
Unfortunately, Paramount Pictures were insistent that Channing Tatum actually needed to play the main protagonist. Tatum revealed to Stern that his main objections to participating in the potential dud, explaining, "I didn't want to do something that I thought was 1) bad, and 2) I didn't know if I wanted to be G.I. Joe."
Despite all of these issues with the project, Channing Tatum declared that he was "super lucky and blessed" to have been given G.I. Joe: The Rise Of Cobra, especially when you consider the other potential stinkers he could have been offered instead.
In the end, it all worked out rather well for Channing Tatum, because while G.I. Joe: The Rise Of Cobra is wholly forgettable, he's done an exceptional job of using the film's success to help get other, better projects off the ground - all while proving that he's actually a damn good actor too. Channing Tatum will next be seen in Magic Mike XXL on July 1st. And, unless something goes drastically wrong, he'll probably never be seen in another G.I. Joe movie ever again.
Your Daily Blend of Entertainment News