Chris Evans Sports A Disguise In First Images For A Many Splintered Thing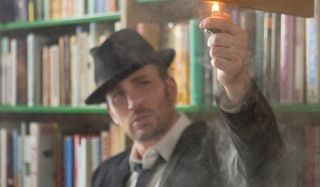 Chris Evans might be serious about getting out of the acting game, but he's still got plenty of movies left in him before he departs. One of them is A Many Splintered Thing , which was shot a couple of years ago but is only now seeing release. We have our first look at the poster, seen above thanks to Teaser-Trailer, where Chris Evans and Michelle Monaghan are either participating in yoga or engaged in a zero gravity deathmatch.
The film's synopsis was also released, and it reveals that this sounds a lot like a movie Evans' Lucas Lee from Scott Pilgrim Vs. The World would star in.
Justin Reardon, a highly-lauded commercial director, makes his debut with this film, which was shot in 2012 but apparently involves extensive post-production effects, none of which we can see by the stills released. Here's a look at Chris Evans as the Narrator, who apparently takes on several guises, all of them goofy.
The loaded cast also includes Evans' Captain America: The Winter Soldier co-star Anthony Mackie, Patrick Warburton, Topher Grace, Ioan Gruffudd, Aubrey Plaza, Martin Starr, Ashley Tisdale, Luke Wilson, Philip Baker Hall and Giovanni Ribisi. Here's another look at Captain America and Venom, just chilling out. Marvel slash-fic writers, the game is on.
And here is the Human Torch, setting fire to what we know as love in the modern age. Oh Johnny Storm, you're such a cynic!
There is no release date set for the film quite yet, but we can probably expect it later this year.