Chris Meloni, Eva Green And Gabourey Sidibe Join Gregg Araki's White Bird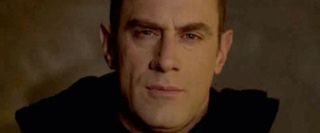 Though mainstream acclaim escapes him, daring writer-director Gregg Araki has proven prolific in the world of indie cinema, making 11 films since his first, Three Bewildered People in the Night, in 1987. His best-known feature is undoubtedly the uncompromising Sundance-selected drama Mysterious Skin, which starred Joseph Gordon-Levitt in his first noteworthy dark turn. Araki's last movie was the trippy, sci-fi infused sexual awakening comedy Kaboom, which won acclaim at the Cannes Film Festival in 2010, and his next is a thriller called White Bird in a Blizzard.
Written by Araki, the film will follow a young woman whose life is thrown into absolute chaos when her mother vanishes. Shailene Woodley, the ingénue who earned major acclaim earlier last year for her eye-opening turn opposite George Clooney in The Descendants, signed on to star last June, and soon thereafter Shiloh Fernandez (Red Riding Hood) became the male lead. Now Deadline reports Law & Order: Special Victims Unit's Chris Meloni, Dark Shadows's Eva Green and Gabourey Sidibe of Precious have joined the cast, though there is no mention of what roles they will play.
Frankly, with the dark and wild turns Araki's films tend to take, it's impossible to imagine what White Bird in a Blizzard has in store for its mysterious cast of characters. However, it is always good news when Meloni gets more work. After walking away from more than a decade of Law & Order: SVU, he's been scoring roles in a number of much-anticipated upcoming features, from Brian Helgeland's Jackie Robinson biopic 42 to Zack Snyder's Superman movie Man of Steel, and David Wain's rom-com parody They Came Together. This brief sampling of his filmography already reflects the actor's ability to leap from drama to comedy, so he's sure to be able to handle whatever Araki and his sure to be challenging feature throw at him.
Staff writer at CinemaBlend.
Your Daily Blend of Entertainment News
Thank you for signing up to CinemaBlend. You will receive a verification email shortly.
There was a problem. Please refresh the page and try again.